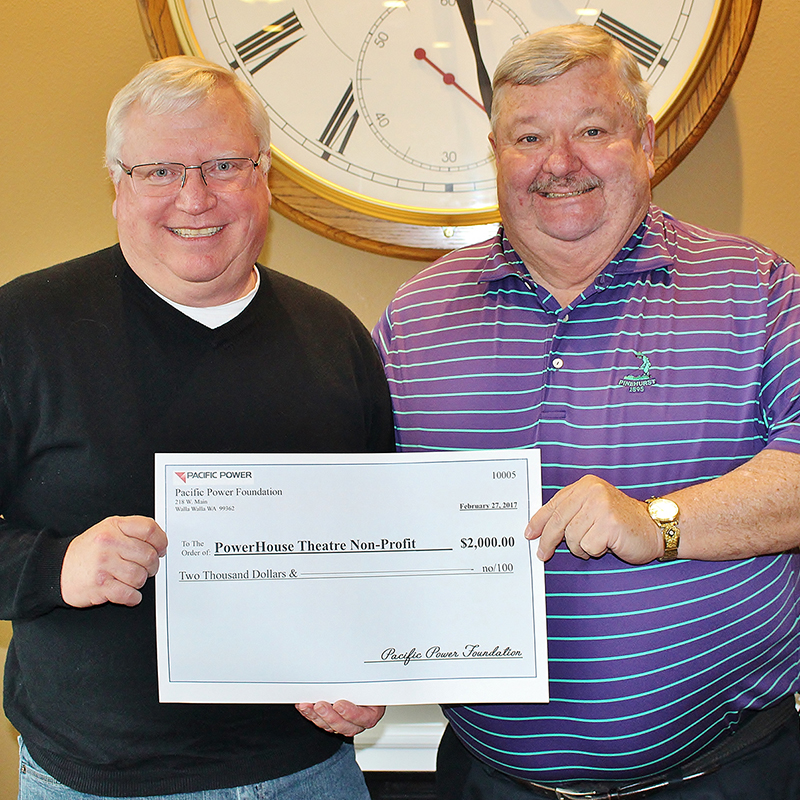 Press Release: Power House nonprofit receives grant from Pacific Power Foundation
May 24, 2017 – The Pacific Power Foundation recently awarded a $2,000 grant to Power House Theatre Walla Walla, Inc. – a 501(c)3 nonprofit organization formed with the goal of assuming ownership of Gesa Power House Theatre.
Gesa Power House Theatre is currently a limited liability company, actively owned and operated by local business operators Mark Anderson and Dennis Ledford. A nonprofit is a better business model for a theater.
Pacific Power and other local businesses such as KAPP/KVEW TV, Coldwell Banker, Foundry Vineyards, the Courtyard Marriott, Inland Cellular, Walla Walla Valley Honda and the Marcus Whitman currently support the theater's programming. Making it a nonprofit will allow for even broader support and make it eligible for donations and grant money.
Gesa Power House Theatre has entered into a purchase agreement with a nonprofit that will take over operations in 2018. As part of a transition plan, the current owners will gift their equity in the LLC to the nonprofit. Anderson and Ledford now serve on the board of the new nonprofit, and are joined by Ken Harrison, Barbara Peterson, and Bill Clemens, Pacific Power Regional Business Manager.
The Pacific Power Foundation is the philanthropic arm of Pacific Power, which supports the growth and vitality of the local community through charitable investments. In 2016, the Pacific Power Foundation awarded nearly $883,000 to local nonprofit organizations. Pacific Power is also a strong supporter of local businesses and nonprofits through corporate sponsorship.