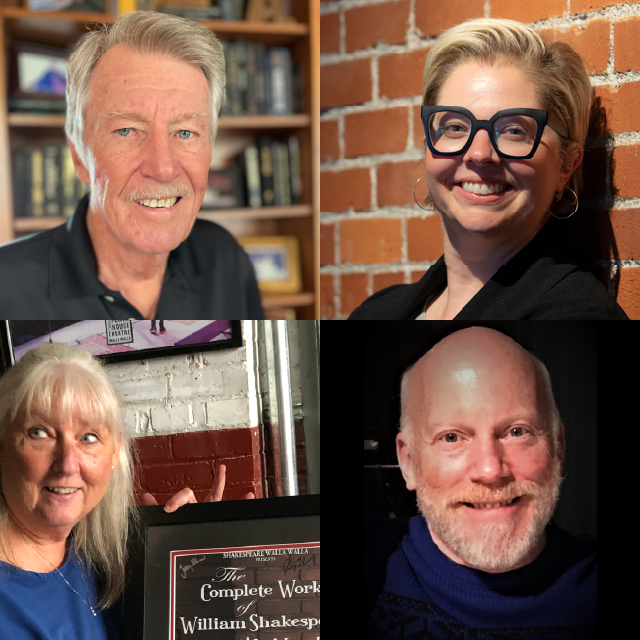 Press Release: New members join Board of Directors
March 1 –
At a recent meeting of the nonprofit board, Liz Knapke, Brad Rice, Donna Ledford, and Peter Crook were all elected to serve on the Power House Theatre Walla Walla board of directors.
Also on the board are Michael Howell (board president), Karl Eckhardt (secretary), Michelle Conner (treasurer), Douglas Carlsen, Melissa Clubb, Bryan Ford, John Jamison, Erica Walter, and Tricia Rice.
Liz, a Walla Walla resident since 2018, brings her professional experience in sales, marketing, and hospitality to the board. She has volunteer experience at the local and state level and is the Executive Director of Walla Walla Valley Wine.
Brad has lived in Walla Walla for more than a decade and is originally from West Linn, Ore. He brings his with vast experience in finance and accounting to the board and is very active in our community and has served on several local boards and committees.
Donna is a long time resident of Walla Walla and brings her vast historical knowledge and her continued dedicated commitment as a founder of the Power House Theatre to the board. She brings more than 10 years of volunteer experience at the theater and has worn many hats including volunteer contact, housing host for actors, booking, and front of house.
Peter moved to Walla Walla from the Seattle area in 2022 after more than a decade of visiting this region. He quickly discovered the Gesa Power House Theatre and found the venue electrifying! He decided to attend as many performances as possible. He has an extensive background in the performing arts, acting, and currently works in the wine industry at Patterson Cellars.
---
About Gesa Power House Theatre
The historic Gesa Power House Theatre is a 300-seat performing arts venue, located in downtown Walla Walla. The 120-year-old building was once the Walla Walla Gas Plant, built to produce coal gas used to light the streets, businesses, and homes of Walla Walla. In 2011 the Gesa Power House Theatre building was transformed into a state-of-the-art playhouse for live performance. The interior design of the theatre was inspired by Shakespeare's own intimate Blackfriars Theatre in London, England.
The Gesa Power House Theatre is on the Washington State Building Preservation Commission list of State historic buildings and on the National Register of Historic Places. The venue also hosts a variety of other cultural events, musical concerts, and private events (including weddings).
Gesa Power House Theatre is owned and operated by Power House Theatre Walla Walla, a 501(c)(3) nonprofit organization.
For additional marketing and media information, including interviews and hi-res images, contact:
Mary Aparicio Castrejón
Marketing Manager
Phone: 509.529-6500 ext:5
marketing@phtww.org
Gesa Power House Theatre
111 North Sixth Ave.
Walla Walla, Washington 99362