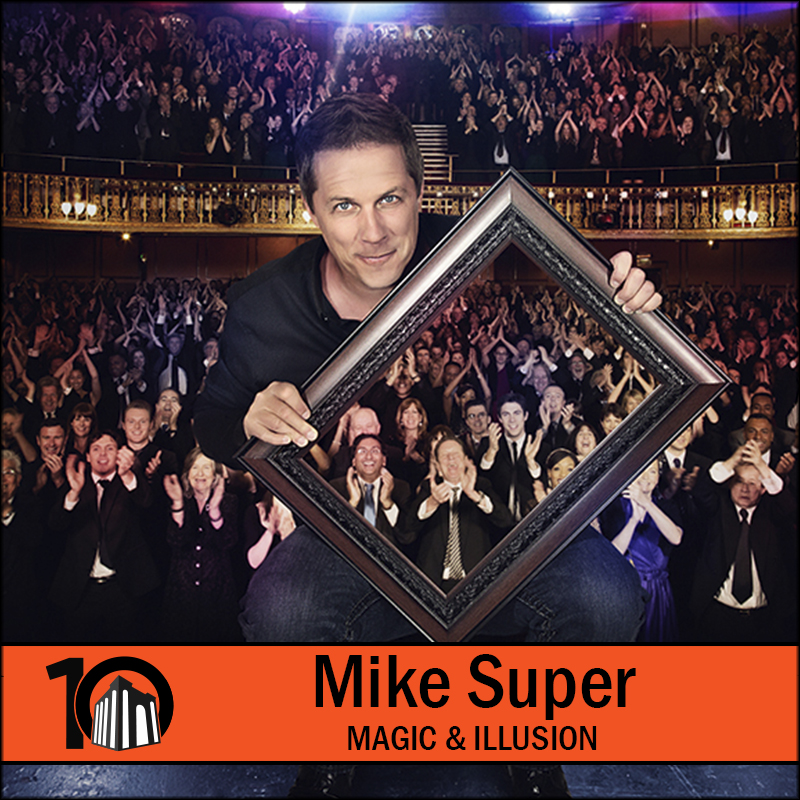 Press Release: Mike Super – Magic & Illusion – February 26
Gesa Power House Theatre presents Mike Super – Magic & Illusion on Saturday, February 26, 2022 at 7:00 p.m.
As the winner of NBC's hit TV show Phenomenon, Mike Super is the only magician in history to win a live magic competition on prime-time US network television and was voted America's Favorite Mystifier! Through spectacular illusions and his own inimitable down-to-earth style and personality, Mike Super has pioneered a new form of magic that transcends the "trick." Mike was also previously a top finalist on NBC's #1 rated summer series America's Got Talent!
Mike Super's shows combine mind-blowing illusions combined with the hilarity of a headline comedian, and brings the performance of magic to new, mainstream levels that will reach out and literally touch members of the audience! This family-friendly performance promises to take the audience on a journey of emotions from laughter, intrigue, danger, fear, wonder, anticipation, tears, and sentimentality.
Mike Super's ever-growing popularity has garnered him millions of fans, multiple television appearances, and many prestigious awards and honors. Twice, Mike Super received The Merlin Award from the International Magician's Society – an honor given only to the top magicians in the world, including previous winners such as David Copperfield, Penn & Teller, Criss Angel, and Siegfried and Roy.
Reserved seating tickets ($45) are available online at www.phtww.org or by calling the box office at 509-529-6500. Gesa Power House Theatre is located at 111 N. 6th Avenue in downtown Walla Walla.
Additional precautions, such as required mask use, will be observed based on the latest guidance from state and county health departments.
---
Season Sponsors:
Walla Walla Union-Bulletin, Northwest Public Broadcasting, Pacific Power, Hayden Homes
Additional support provided by:
Walla Walla County, Port of Walla Walla, City of Walla Walla
Each Coldwell Banker Office is Independently Owned and Operated
---
About Gesa Power House Theatre
The historic Gesa Power House Theatre is a 300-seat performing arts venue, located in downtown Walla Walla. The 120-year-old building was once the Walla Walla Gas Plant, built to produce coal gas used to light the streets, businesses, and homes of Walla Walla. In 2011 the Gesa Power House Theatre building was transformed into a state-of-the-art playhouse for live performance. The interior design of the theatre was inspired by Shakespeare's own intimate Blackfriars Theatre in London, England.
The Gesa Power House Theatre is on the Washington State Building Preservation Commission list of State historic buildings and on the National Register of Historic Places. The venue also hosts a variety of other cultural events, musical concerts, and private events (including weddings).
Gesa Power House Theatre is owned and operated by Power House Theatre Walla Walla, a 501(c)(3) nonprofit organization.
For additional marketing and media information, including interviews and hi-res images, contact:
Bradley Nelson
Media Contact
Phone: 509.529-6500
webmaster@phtww.org
Gesa Power House Theatre
111 North Sixth Ave.
Walla Walla, Washington 99362