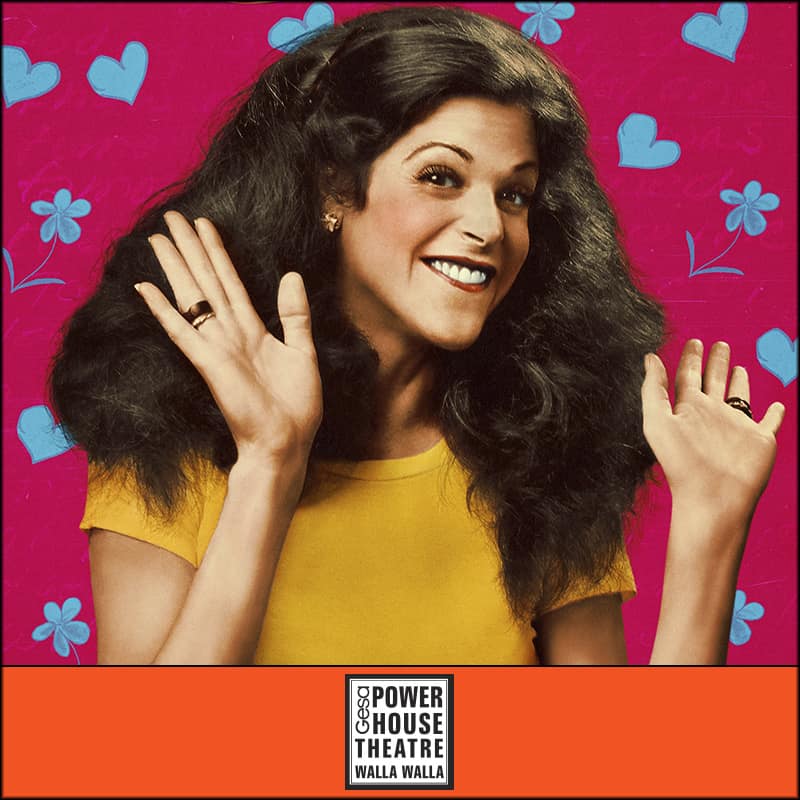 Press Release: "Love, Gilda" – October 3 documentary film
Gesa Power House Theatre will screen the new documentary film Love, Gilda on Wednesday, October 3 at 7:00 p.m. A portion of the proceeds ($1/ticket) will be donated to Just Us Girls Sharing (J.U.G.S.).
Comedienne Gilda Radner puts a smile on the faces of people who remember watching her as one of the original cast members of "Saturday Night Live," where she created and portrayed such now-classic comic characters as Roseanne Roseannadanna, Emily Litella and Lisa Loopner. She quickly rose to meteoric fame in television, movies and on Broadway.
Love, Gilda weaves together recently discovered audiotapes, interviews with friends (Chevy Chase, Lorne Michaels, Laraine Newman, Paul Shaffer and Martin Short), rare home movies and diaries read by modern-day comedians inspired by Gilda (Bill Hader, Amy Poehler, Maya Rudolph and Cecily Strong), and opens up a unique window into the honest and whimsical world of a beloved performer whose greatest role was sharing her story.
Love, Gilda, directed by Lisa D'Apolito, is a true autobiography, told in Gilda's words and in her own voice. Working with the Radner Estate, D'Apolito unearthed a collection of diaries and personal audio and videotapes documenting her childhood, her comedy career, her relationships and ultimately, her struggle with cancer. This never-before-seen footage and journal entries form the narrative spine of the documentary, allowing Gilda to tell her own story – through the laughter and sometimes the tears. Incredibly, she was able to find humor in even the darkest of times.
Gilda's spirit lives on in comedy as a female trailblazer who continues to inspire many present day comedic performers, including Bill Hader, Amy Poehler, Maya Rudolph, and Cecily Strong. Also interviewed are SNL original cast members- Chevy Chase, Laraine Newman and Paul Shaffer- as well as, Lorne Michaels (SNL creator and producer), Alan Zweibel (SNL writer), Stephen Schwartz (Broadway composer); Andrew Alexander (CEO of Second City) and long-time friend Martin Short.
This film has a runtime of about 90 minutes. Beer, wine, popcorn, and snacks will be available for purchase, and may be taken into the theater. Outside food and beverages are not allowed.
Reserved seating: $15 Adults, $10 Students (in advance); $18 Adults, $12 Students (at the door). Tickets will go on sale to the public on Friday, August 31, online or by calling the box office (509-529-6500).
Since 2009, Just Us Girls Sharing (J.U.G.S.) has been making a difference in the lives of cancer survivors and their families in the Walla Walla Valley and beyond. The locally-formed and operated cancer survivor support network raises funds to directly benefit cancer survivors through cash assistance, the purchase of household items and appliances—basically, those things not covered by insurance.
# # #
The 2018 Season is supported in part by: Coldwell Banker First Realtors, Foundry Vineyards, KAPP-KVEW, Inland Cellular, Pacific Power, McCurley Integrity Toyota of Walla Walla.
---
About the Gesa Power House Theatre
The historic Gesa Power House Theatre is a 300-seat performing arts venue, located in downtown Walla Walla. The 120-year-old building was once the Walla Walla Gas Plant, built to produce coal gas used to light the streets, businesses, and homes of Walla Walla. In 2011 the Gesa Power House Theatre building was transformed into a state-of-the-art playhouse for live performance. The interior design of the theatre was inspired by Shakespeare's own intimate Blackfriars Theatre in London, England.
The Gesa Power House Theatre is on the Washington State Building Preservation Commission list of State historic buildings and on the National Register of Historic Places. The venue also hosts a variety of other cultural events, musical concerts, and private events (including weddings).
For additional marketing and media information, including interviews and hi-res images, contact:
Bradley Nelson
Media Contact
Phone: 509.529-6500
webmaster@phtww.org
Gesa Power House Theatre
111 North Sixth Ave.
Walla Walla, Washington 99362