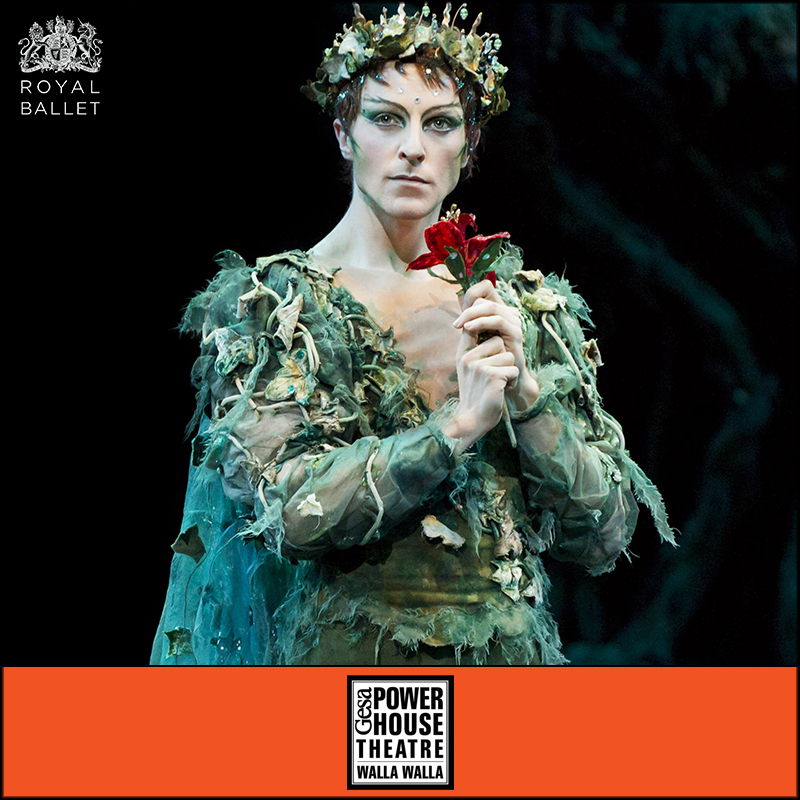 Press Release: Live Cinema Series – "The Dream" – June 28
June 15, 2017 – A Live Cinema version of "The Dream" by the Royal Ballet in London will be screened at Gesa Power House Theatre on Wednesday, June 28 at 6:00 p.m. The production is filmed live in London and rebroadcast later to select international screens.
This mixed program demonstrates the great creative vision of Frederick Ashton, Founder Choreographer of The Royal Ballet, by celebrating three of his most-loved works. Ashton helped define the English style of ballet – characterized most notably by precise, fleet footwork, sensuous épaulement (the way the shoulders are held) and gorgeous line of delicate simplicity.
"The Dream" is Ashton's adaptation of Shakespeare's riotous comedy ("A Midsummer Night's Dream") in which a forest sprite plays havoc, armed with a love potion. The plot is condensed into 50 minutes of feuding fairies, sprightly spirits, confused lovers and, of course, a man with the head of an donkey.
"Symphonic Variations" was Ashton's first work after World War II, and one of the Company's first to be performed on the huge main stage of the Royal Opera House, in 1946. With six dancers performing a series of quartets, duets, sextets and solos to Franck's brooding "Variations Symphoniques", this seminal masterpiece celebrates the pure beauty of movement.
"Marguerite and Armand" is Ashton's beautiful and emotional retelling of a well-known story, familiar to us through Verdi's opera La traviata. Ashton famously created this poignant ballet on Margot Fonteyn and Rudolf Nureyev in 1963.
The screening runs for approximately 3 hours 10 minutes including a 15 minute on-screen introduction and two intermissions. Beer, wine, and snacks will be available for purchase.
General admission tickets ($15 Adults, $10 Students) are available online (www.phtww.org) or by calling the box office at 509-529-6500.
 # # #
Live Cinema Schedule
Wednesday, June 28
"The Dream / Symphonic Variations / Marguerite and Armand"
Royal Ballet
Wednesday, July 12
"Antony & Cleopatra"
Royal Shakespeare Company
Wednesday, August 2
"Otello"
Royal Opera
Wednesday, September 13
"Titus Andronicus"
Royal Shakespeare Company
---
About the Gesa Power House Theatre
The historic Gesa Power House Theatre is a world-class, 300-seat performing arts venue, located in downtown Walla Walla. The 120-year-old building was once the Walla Walla Gas Plant, built to produce coal gas used to light the streets, businesses, and homes of Walla Walla. In 2011 the Gesa Power House Theatre building was transformed into a state-of-the-art playhouse for live performance. The interior design of the theatre was inspired by Shakespeare's own intimate Blackfriars Theatre in London, England.
The Gesa Power House Theatre is on the Washington State Building Preservation Commission list of State historic buildings and on the National Register of Historic Places. The venue also hosts a variety of other cultural events, musical concerts, and private events (including weddings).
For additional marketing and media information, including interviews and hi-res images, contact:
Bradley Nelson
Media Contact
Phone: 509.529-6500
webmaster@phtww.org
Gesa Power House Theatre
111 North Sixth Ave.
Walla Walla, Washington 99362