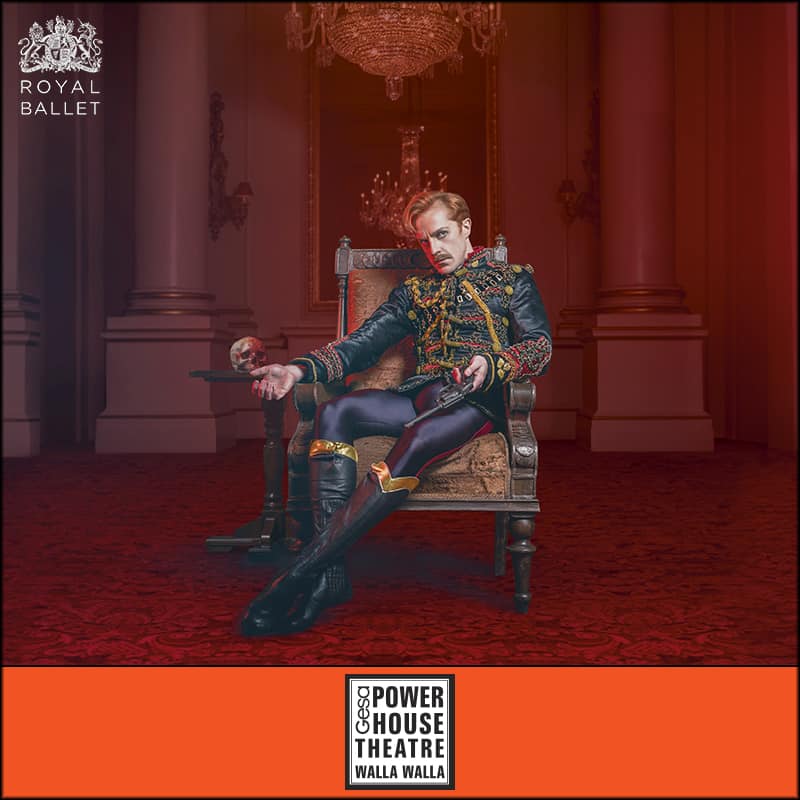 Press Release: Live Cinema Series screening of "Mayerling" (ballet) on Nov. 14
The Live Cinema Series at Gesa Power House Theatre will include a screening of the current Royal Ballet production of Kenneth MacMillan's Mayerling on Wednesday, November 14 at 6:00 p.m.
Choreographer Kenneth MacMillan brings 19th-century Europe to life with this dark and dangerous ballet. Based on the true story of Crown Prince Rudolf, Mayerling reveals a country on the brink of collapse, impending war in Europe and a love affair between Rudolf and his mistress Baroness Mary Vetsera that ends in tragedy.
Mayerling is a classic of the Royal Ballet repertory, with its emotional depth, haunting imagery, music by Franz Liszt and one of the most demanding roles ever created for a male dancer.
The cast on this production includes Crown Prince Rudolf danced by Principal Dancer Steven McRae, Mary Vetsera (Sarah Lamb), Countess Marie Larisch (Laura Morera), Colonel Middelton (Nehemiah Kish), Empress Elisabeth (Kristen McNally) Emperor Franz Joseph (Gary Avis), Princess Stephanie (Meaghan Grace Hinkis), Mitzi Casper (Mayara Magri) and Bratfisch (James Hay). The large cast allows for impressive ensembles in addition to the ballet's many solos of distinctive character and pas de deux of disturbing eroticism.
Note: This production contains scenes of an adult nature and may not be suitable for young audience members.
This screening has a runtime of approximately 3 hours 15 minutes, including an on-screen introduction and one intermission. Beer, wine, popcorn, and snacks will be available for purchase, and may be taken into the theater.
The 2018 Live Cinema series is sponsored in part by Shakespeare Walla Walla and features current professional productions, filmed live in England, and rebroadcast to select international theaters. The Live Cinema screenings offer audiences the best seat in the house with exclusive behind-the-scenes footage, interviews and incredibly detailed close-ups of performers.
Reserved seating: $15 Adults, $10 Students (in advance); $18 Adults, $12 Students (at the door). Tickets are available online or by calling the box office at 509-529-6500.
Shakespeare Walla Walla is a local 501(c)3 nonprofit organization that aims to make Shakespeare and theater approachable and entertaining to students in eastern Washington and Oregon. 
---
Live Cinema Schedule
Wednesday, October 24
Funny Girl
Broadway Musical
Wednesday, November 7
Red
West End Play
Wednesday, November 14
The Royal Ballet
Thursday, November 29
The King and I
Broadway Musical
Sunday, December 9
The Royal Opera
Sunday, December 16
The Royal Ballet
---
About the Gesa Power House Theatre
The historic Gesa Power House Theatre is a 300-seat performing arts venue, located in downtown Walla Walla. The 120-year-old building was once the Walla Walla Gas Plant, built to produce coal gas used to light the streets, businesses, and homes of Walla Walla. In 2011 the Gesa Power House Theatre building was transformed into a state-of-the-art playhouse for live performance. The interior design of the theatre was inspired by Shakespeare's own intimate Blackfriars Theatre in London, England.
The Gesa Power House Theatre is on the Washington State Building Preservation Commission list of State historic buildings and on the National Register of Historic Places. The venue also hosts a variety of other cultural events, musical concerts, and private events (including weddings).
For additional marketing and media information, including interviews and hi-res images, contact:
Bradley Nelson
Media Contact
Phone: 509.529-6500
webmaster@phtww.org
Gesa Power House Theatre
111 North Sixth Ave.
Walla Walla, Washington 99362