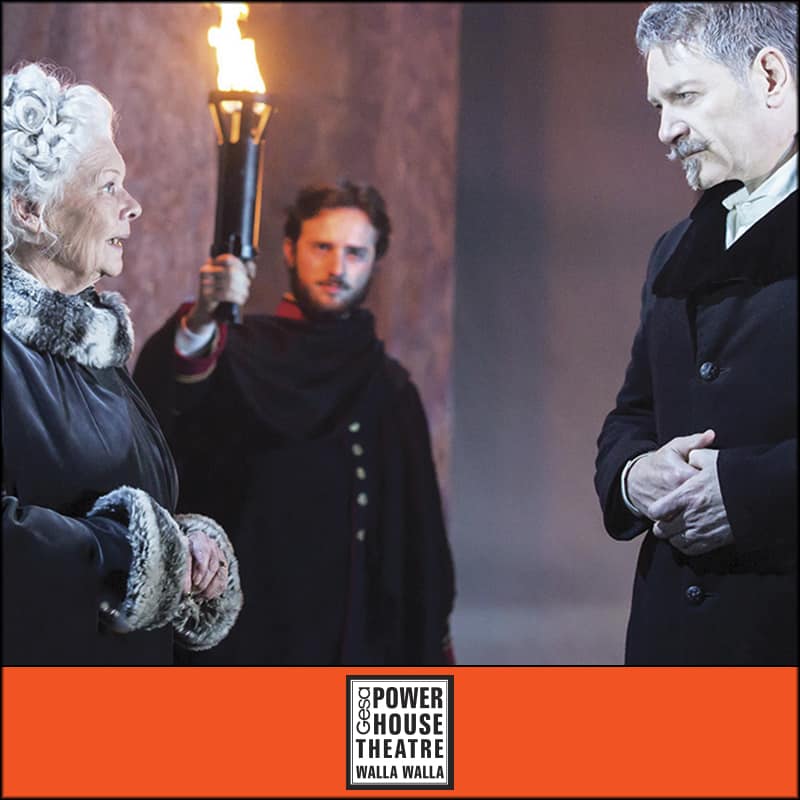 Press Release: Live Cinema Series adds 3 screenings in December
The 2019 Live Cinema Series will add three additional screenings in December at Gesa Power House Theatre in Walla Walla.
First up is an encore screening of Kenneth Branagh's award-winning production of The Winter's Tale on Wednesday, December 4 at 6:00 p.m. This production was filmed live in 2015 at The Garrick Theatre in London, and was co-directed by Rob Ashford and Kenneth Branagh.
King Leontes appears to have everything: power, wealth, a loving family and friends. But sexual jealousy sets in motion a chain of events with tragic consequences. The production featured a remarkable group of actors, including Judi Dench as Paulina and Kenneth Branagh as Leontes, alongside Tom Bateman (Florizel), Jessie Buckley (Perdita), Hadley Fraser (Polixenes), and Miranda Raison (Hermione).
Second is a screening of a current mixed ballet program by The Royal Ballet on Sunday, December 8 at 2:00 p.m. This production was filmed live at The Royal Opera House in London.
From The Royal Ballet's classical origins in the works of Marius Petipa, to the home-grown choreographers who put British ballet on the world stage, this mixed program highlights the versatility of the Company. Petipa's Raymonda Act III is Russian classical ballet summarized in one act, full of sparkle and precise technique, while Ashton's Enigma Variations is quintessentially British in every way – from its score by Elgar to period designs by Julia Trevelyan Oman. Concerto, MacMillan's fusion of classical technique with a contemporary mind, completes a program that shows the breadth of The Royal Ballet's heritage.
Finally, the 2019 Live Cinema Series will conclude with an encore screening of The Royal Ballet's The Nutcracker on Wednesday, December 18 at 6:00 p.m. This production was filmed live in 2016 at The Royal Opera House in London.
The Royal Ballet's glorious production of The Nutcracker, created by Peter Wright in 1984, is the production par excellence of an all-time ballet favorite. It is Christmas Eve and Herr Drosselmeyer the magician sweeps young Clara away on a fantasy adventure in which time is suspended, the family living-room becomes a great battlefield, and a magical journey takes them through the Land of Snow to the Kingdom of Sweets. Tchaikovsky's glittering score, the gorgeous festive stage designs, and The Royal Ballet's captivating dancing, make this Nutcracker a quintessential Christmas experience.
Filmed during a live event, the Live Cinema Series broadcasts offer audiences an equivalent to the best seat in the house, with incredibly detailed close-ups of the performers. Beer, wine, popcorn, and snacks will be available for purchase, and may be taken into the theater. The 2019 Live Cinema Series is sponsored in part by Shakespeare Walla Walla.
Reserved seating tickets ($15 Adults, $10 Students) will go on sale to the public on Monday, September 9, online at www.phtww.org or by calling the box office at 509-529-6500. For group ticket sales, please call 509-876-1662.
---
About the Gesa Power House Theatre
The historic Gesa Power House Theatre is a 300-seat performing arts venue, located in downtown Walla Walla. The 120-year-old building was once the Walla Walla Gas Plant, built to produce coal gas used to light the streets, businesses, and homes of Walla Walla. In 2011 the Gesa Power House Theatre building was transformed into a state-of-the-art playhouse for live performance. The interior design of the theatre was inspired by Shakespeare's own intimate Blackfriars Theatre in London, England.
The Gesa Power House Theatre is on the Washington State Building Preservation Commission list of State historic buildings and on the National Register of Historic Places. The venue also hosts a variety of other cultural events, musical concerts, and private events (including weddings).
For additional marketing and media information, including interviews and hi-res images, contact:
Bradley Nelson
Media Contact
Phone: 509.529-6500
webmaster@phtww.org
Gesa Power House Theatre
111 North Sixth Ave.
Walla Walla, Washington 99362