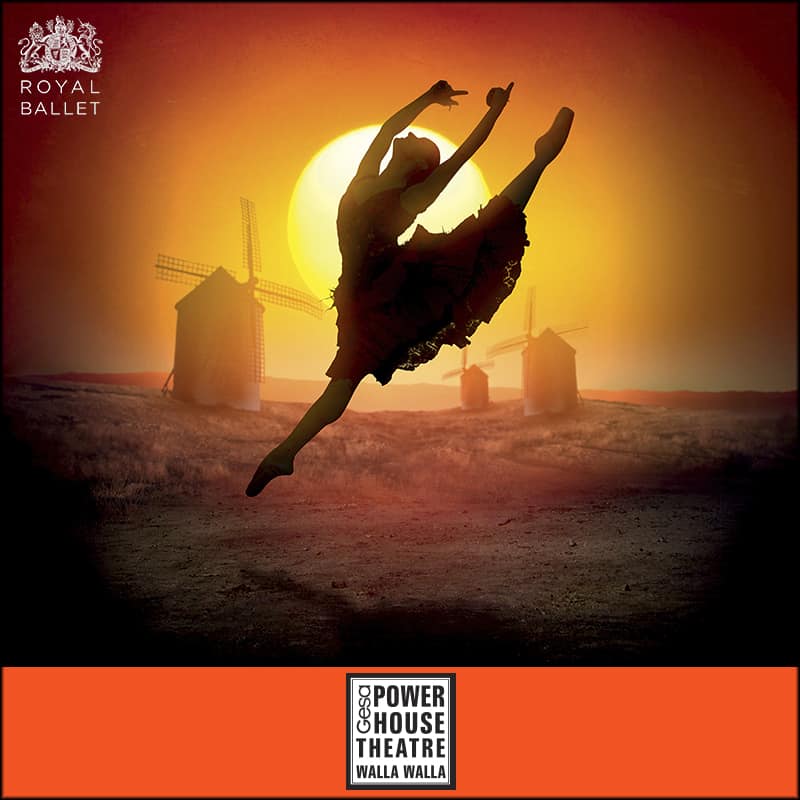 Press Release: Live Cinema screenings of "Don Quixote" (ballet) – March 20 & 24
The 2019 Live Cinema Series continues at Gesa Power House Theatre with screenings of the current Royal Ballet production of Don Quixote on Wednesday, March 20 at 6:00 p.m. and Sunday, March 24 at 2:00 p.m. This production is filmed live in London and rebroadcast internationally to select screens.
Cervantes's story of the bumbling knight Don Quixote has inspired countless artistic interpretations. Marius Petipa choreographed this sparkling ballet about the encounters of the man from La Mancha and his faithful squire Sancho Panza. At its heart are virtuoso roles for the lovers Basilio and Kitri.
Carlos Acosta chose this joyful classic for his first production for The Royal Ballet. His vibrant staging brings together the whole Company in such roles as exuberant villagers, passionate gypsies and even fantasy flowers. The story follows Don Quixote's picaresque journey to do deeds in honor of his imaginary noble lady, Dulcinea.
Sunny, charming, funny and touching – Don Quixote is a ballet as full of uplifting emotion as it is of astonishing ballet technique.
The cast of this performance includes: Christopher Saunders (DON QUIXOTE), Philip Mosley (SANCHO PANZA), Akane Takada (KITRI), Alexander Campbell (BASILIO), Valentino Zucchetti (ESPADA), Mayara Magri (MERCEDES), Anna Rose O'Sullivan (AMOUR), Lara Turk (DULCINEA), Fumi Kaneko (QUEEN OF THE DRYADS), and Yuhui Choe and Beatriz Stix-Brunell (KITRI'S FRIENDS).
The 2019 Live Cinema Series is supported by Shakespeare Walla Walla, a local nonprofit organization that aims to make Shakespeare and other performing arts approachable, entertaining, and accessible to students in eastern Washington and Oregon. Filmed during a live event, the Live Cinema Series broadcasts offer audiences an equivalent to the best seat in the house, with incredibly detailed close-ups of the performers.
This screening runs approximately 3 hours including an onscreen introduction and two intermissions. Beer, wine, popcorn, and snacks will be available for purchase, and may be taken into the theater.
Reserved seating tickets ($15 Adults, $10 Students) will go on sale to the public on Thursday, February 7, online or by calling the box office at 509-529-6500.
---
About the Gesa Power House Theatre
The historic Gesa Power House Theatre is a 300-seat performing arts venue, located in downtown Walla Walla. The 120-year-old building was once the Walla Walla Gas Plant, built to produce coal gas used to light the streets, businesses, and homes of Walla Walla. In 2011 the Gesa Power House Theatre building was transformed into a state-of-the-art playhouse for live performance. The interior design of the theatre was inspired by Shakespeare's own intimate Blackfriars Theatre in London, England.
The Gesa Power House Theatre is on the Washington State Building Preservation Commission list of State historic buildings and on the National Register of Historic Places. The venue also hosts a variety of other cultural events, musical concerts, and private events (including weddings).
For additional marketing and media information, including interviews and hi-res images, contact:
Bradley Nelson
Media Contact
Phone: 509.529-6500
webmaster@phtww.org
Gesa Power House Theatre
111 North Sixth Ave.
Walla Walla, Washington 99362