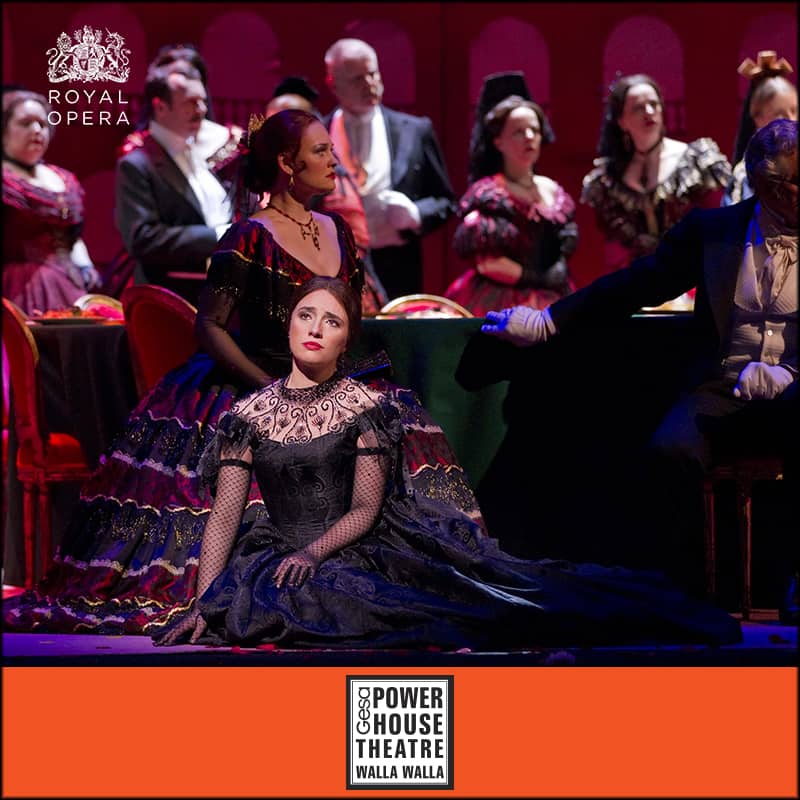 Press Release: Live Cinema screening of "La Traviata" (Royal Opera) – March 10
The 2019 Live Cinema Series continues at Gesa Power House Theatre with a screening of the current Royal Opera House production of La Traviata on Sunday, March 10 at 2:00 p.m. This production is filmed live in London and rebroadcast internationally to select screens.
Richard Eyre's beautiful production provides the perfect setting for Giuseppe Verdi's opera about a courtesan who sacrifices all for love – from the thrill of unexpected romance to a heartbreaking reconciliation that comes too late.
Alfredo falls in love in with the courtesan Violetta in glamorous Paris society, but underneath the surface run darker undercurrents, leading to a tragic ending. The opera's wealth of melodies includes the famous Brindisi and the exuberant "Sempre libera" – both showing the lyricism of Italian opera at its most immediately appealing.
Richard Eyre's production of La Traviata for The Royal Opera brings out all the emotional color, from the giddy discovery of love, through painful confrontation to the inevitable conclusion. Lavish period sets and costumes enhance the reality of a moving story based on true life.
The cast of this production includes Ermonela Jaho as Violetta, Charles Castronovo as Alfredo Germont, and Plácido Domingo as Giorgio Germont.
Filmed during a live event, the Live Cinema Series broadcasts offer audiences an equivalent to the best seat in the house, with incredibly detailed close-ups of the performers. This screening runs approximately 3 hours 35 minutes including an onscreen introduction and two intermissions.
La Traviata is performed in Italian with English surtitles. Beer, wine, popcorn, and snacks will be available for purchase, and may be taken into the theater.
The 2019 Live Cinema Series is supported by Shakespeare Walla Walla, a local nonprofit organization that aims to make Shakespeare and other performing arts approachable, entertaining, and accessible to students in eastern Washington and Oregon.
Reserved seating tickets ($15 Adults, $10 Students) are available online or by calling the box office at 509-529-6500.