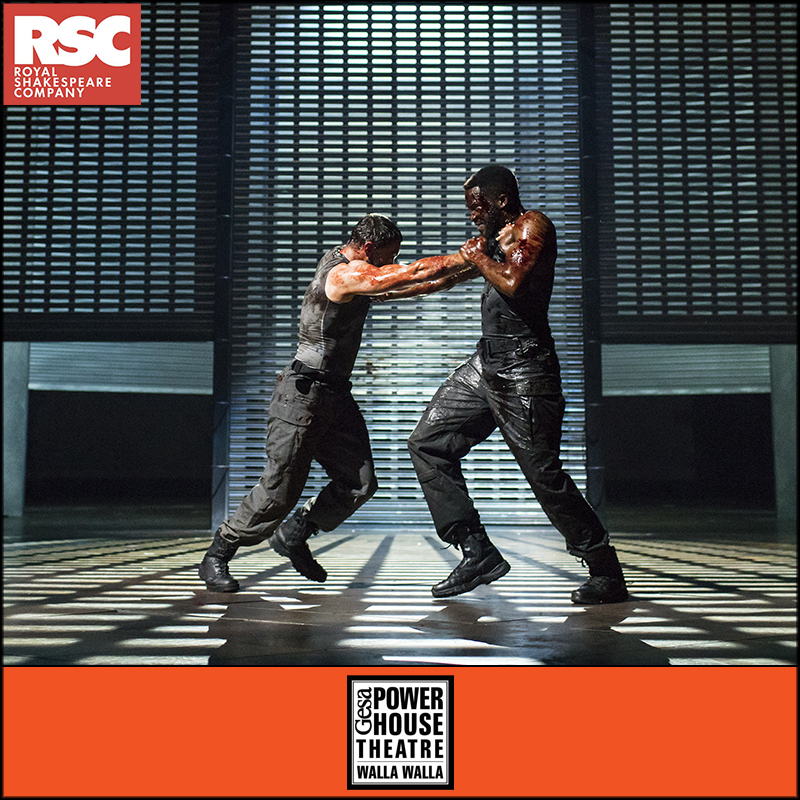 Press Release: Live Cinema "Coriolanus" (Shakespeare) – Nov. 1
The Gesa Power House Theatre Live Cinema series will include a screening of 
Coriolanus
 by the Royal Shakespeare Company on Wednesday, November 1 at 6:00 p.m.
"Coriolanus" is a full-throttle war play by William Shakespeare set during the emergence of the republic of Rome. Caius Martius Coriolanus, played by Sope Dirisu ("One Night in Miami"), is a fearless soldier but a reluctant leader. His ambitious mother attempts to carve him a path to political power, but he struggles to change his nature and do what is required to achieve greatness. In this new city state struggling to find its feet, where the gap between rich and poor is widening every day, Coriolanus must decide who he really is and where his allegiances lie.
Directed by Angus Jackson, this production, which revels in the sweat of the battlefield, concludes the Royal Shakespeare Company's season profiling Shakespeare's Roman plays (Julius Caesar, Antony and Cleopatra, Titus Andronicus, Coriolanus). This production is recommended for ages 18 and older.
The Live Cinema series features current productions by the Royal Shakespeare Company, Royal Ballet, and Royal Opera. Direct from England, these professional productions are filmed live and rebroadcast later to select international screens.
General admission tickets ($15 Adults, $10 Students) are available online (
www.phtww.org
) or by calling the box office at 509-529-6500. Beer, wine and snacks will be available for purchase.
 # # #
Live Cinema Schedule
Wednesday, October 25
The Magic Flute
Royal Opera
Wednesday, November 1
Coriolanus
Royal Shakespeare Company
Wednesday, November 8
La bohème
Royal Opera
Wednesday, November 29
Alice's Adventures in Wonderland
Royal Ballet
Sunday, December 17 & Tuesday, December 19
The Nutcracker
Royal Ballet
Wednesday, February 7, 2018
Rigoletto
Royal Opera
Wednesday, February 28, 2018
Tosca
Royal Opera
# # #
The 2017 Season is also supported in part by: KAPP-KVEW, Coldwell Banker First Realtors, Foundry Vineyards, Courtyard Marriott, Inland Cellular, Pacific Power, McCurley Integrity Toyota of Walla Walla.
---
About the Gesa Power House Theatre
The historic Gesa Power House Theatre is a 300-seat performing arts venue, located in downtown Walla Walla. The 120-year-old building was once the Walla Walla Gas Plant, built to produce coal gas used to light the streets, businesses, and homes of Walla Walla. In 2011 the Gesa Power House Theatre building was transformed into a state-of-the-art playhouse for live performance. The interior design of the theatre was inspired by Shakespeare's own intimate Blackfriars Theatre in London, England.
The Gesa Power House Theatre is on the Washington State Building Preservation Commission list of State historic buildings and on the National Register of Historic Places. The venue also hosts a variety of other cultural events, musical concerts, and private events (including weddings).
For additional marketing and media information, including interviews and hi-res images, contact:
Bradley Nelson
Media Contact
Phone: 509.529-6500
webmaster@phtww.org
Gesa Power House Theatre
111 North Sixth Ave.
Walla Walla, Washington 99362