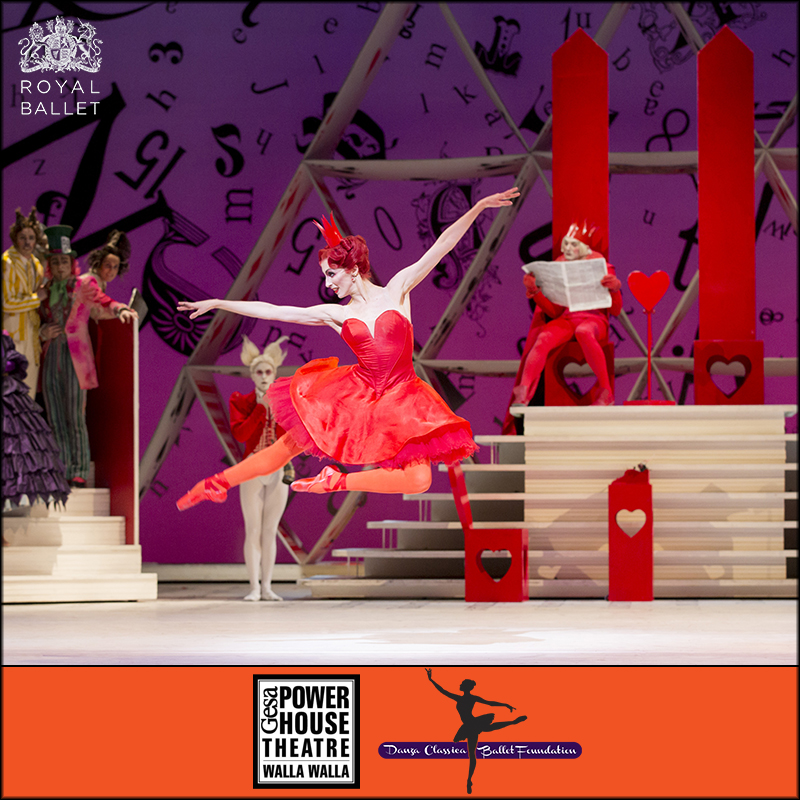 Press Release: Live Cinema "Alice's Adventures in Wonderland" – Royal Ballet (Nov. 29)
The Gesa Power House Theatre Live Cinema will screen Alice's Adventures in Wonderland by the Royal Opera on Wednesday, November 29 at 6:00 p.m. A portion of the proceeds ($1/ticket) will be donated to Danza Classica Ballet Foundation.
At a garden party on a sunny afternoon, Alice is surprised to see her parents' friend Lewis Carroll transform into a white rabbit. When she follows him down a rabbit hole events become curiouser and curiouser and she encounters countless strange creatures. Then Alice wakes with a start. Was it all a daydream?
Christopher Wheeldon's Alice's Adventures in Wonderland burst onto the stage in 2011 in an explosion of color, stage magic and inventive, sophisticated choreography. Joby Talbot's score combines contemporary soundworlds with sweeping melodies that gesture to ballet scores of the 19th century. Bob Crowley's wildly imaginative, eye-popping designs draw on everything from puppetry to projections to make Wonderland wonderfully real.
Alice encounters a cast of extraordinary and instantly recognizable characters, from the highly strung Queen of Hearts – who performs a hilarious send-up of The Sleeping Beauty's famous Rose Adage – to a playing-card corps de ballet, a sinuous caterpillar and a tap-dancing Mad Hatter. But the ballet does not avoid the darker undercurrents of Lewis Carroll's story: a nightmarish kitchen, an eerily disembodied Cheshire Cat and the unhinged tea party are all here in vivid detail. The delicious result shows The Royal Ballet at its best, bringing together world-class dance with enchanting family entertainment.
The Live Cinema series features current productions by the Royal Shakespeare Company, Royal Ballet, and Royal Opera. Direct from England, these professional productions are filmed live and rebroadcast later to select international screens.
Alice's Adventures in Wonderland runs approximately 2 hour 50 minutes including two intermissions and an on-screen introduction.
Reserved seating tickets ($15 Adults, $10 Youth/Students) are available online (www.phtww.org) or by calling the box office at 509-529-6500. Beer, wine and snacks will be available for purchase. Additional donations for Danza Classica Ballet Foundation will be accepted.
Created as a sister organization to The Dance Center, Danza Classica Ballet Foundation fosters and advances the art of ballet in the Walla Walla Valley by providing resources for ballet education, enhancing learning opportunities through in-studio and master classes, local and visiting performances, travel, and ballet study scholarship assistance, as well as promoting appreciation for classical ballet in our community.
# # #
Live Cinema Schedule
Wednesday, November 29
Alice's Adventures in Wonderland
Royal Ballet
Sunday, December 17 & Tuesday, December 19
The Nutcracker
Royal Ballet
Wednesday, February 7
Rigoletto
Royal Opera
Wednesday, February 28
Tosca
Royal Opera
Wednesday, March 14
Twelfth Night
Royal Shakespeare Company
Wednesday, March 28
The Winter's Tale
Royal Ballet
Wednesday, April 11
Carmen
Royal Opera
# # #
The 2017 Season is also supported in part by: KAPP-KVEW, Coldwell Banker First Realtors, Foundry Vineyards, Courtyard Marriott, Inland Cellular, Pacific Power, McCurley Integrity Toyota of Walla Walla.
---
About the Gesa Power House Theatre
The historic Gesa Power House Theatre is a 300-seat performing arts venue, located in downtown Walla Walla. The 120-year-old building was once the Walla Walla Gas Plant, built to produce coal gas used to light the streets, businesses, and homes of Walla Walla. In 2011 the Gesa Power House Theatre building was transformed into a state-of-the-art playhouse for live performance. The interior design of the theatre was inspired by Shakespeare's own intimate Blackfriars Theatre in London, England.
The Gesa Power House Theatre is on the Washington State Building Preservation Commission list of State historic buildings and on the National Register of Historic Places. The venue also hosts a variety of other cultural events, musical concerts, and private events (including weddings).
For additional marketing and media information, including interviews and hi-res images, contact:
Bradley Nelson
Media Contact
Phone: 509.529-6500
webmaster@phtww.org
Gesa Power House Theatre
111 North Sixth Ave.
Walla Walla, Washington 99362