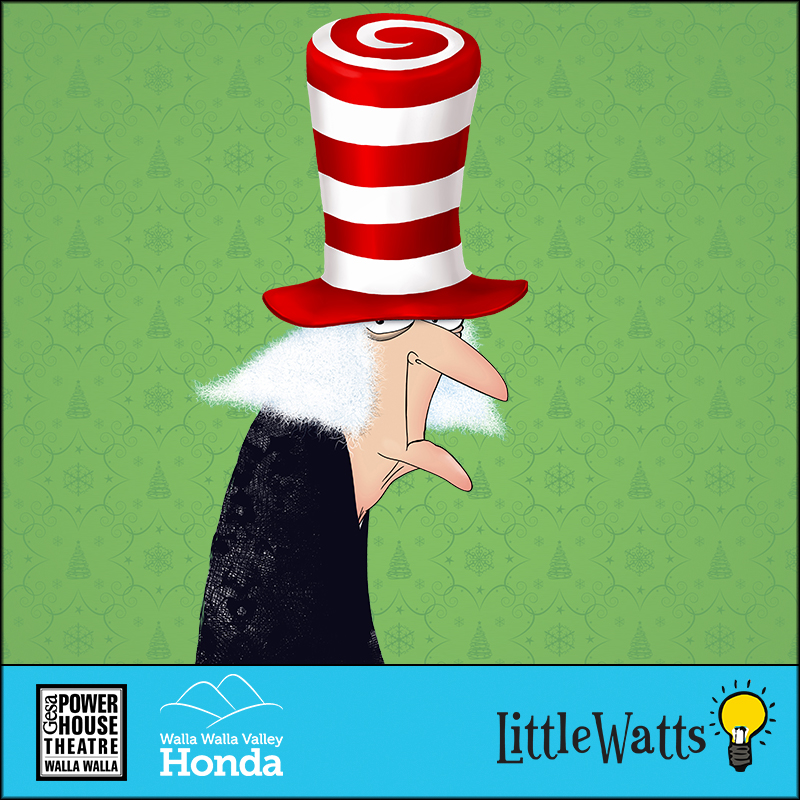 Press Release: Little Watts – "A Seussified Christmas Carol" – December 10
Walla Walla Valley Honda presents "
A Seussified Christmas Carol
" with two performances on Sunday, December 12 at 2 p.m. and 6 p.m. at Gesa Power House Theatre as part of the ongoing Little Watts Series of Family Entertainment.
"A Seussified Christmas Carol" is a whimsical reinvention of Charles Dickens' most beloved Christmas story performed in wacky rhymed couplets. With zoot fruited juices and binka bird geese, from Bed-Headed Fred to Timmy Loo Hoo, this tale of glorious holiday cheer is similar to something Dr. Seuss might have come up with — if he ever had his way with the story.
Local actors will perform all the parts with multiple costume changes. The cast is comprised of: Anthony Ochoa, Bill Dunham, Bradley Nelson, Dayna Ochoa, harmon Ramon, Jennifer Riggs, and Tracey Ochoa.
This Little Watts production is suitable for all ages, but is meant for ages 10 and under.
The performance runs about 45 minutes with photo opportunities with the characters afterwards.
Reserved seating tickets ($12 Adults, $8 Youth 12 and under) are available online (
www.phtww.org
) or by calling the box office at 509-529-6500.
---
About the Gesa Power House Theatre
The historic Gesa Power House Theatre is a 300-seat performing arts venue, located in downtown Walla Walla. The 120-year-old building was once the Walla Walla Gas Plant, built to produce coal gas used to light the streets, businesses, and homes of Walla Walla. In 2011 the Gesa Power House Theatre building was transformed into a state-of-the-art playhouse for live performance. The interior design of the theatre was inspired by Shakespeare's own intimate Blackfriars Theatre in London, England.
The Gesa Power House Theatre is on the Washington State Building Preservation Commission list of State historic buildings and on the National Register of Historic Places. The venue also hosts a variety of other cultural events, musical concerts, and private events (including weddings).
---
For additional marketing and media information, 
including interviews and hi-res images, contact:
Bradley Nelson
Media Contact
Phone: 614.202.1475 (mobile)
webmaster@phtww.org