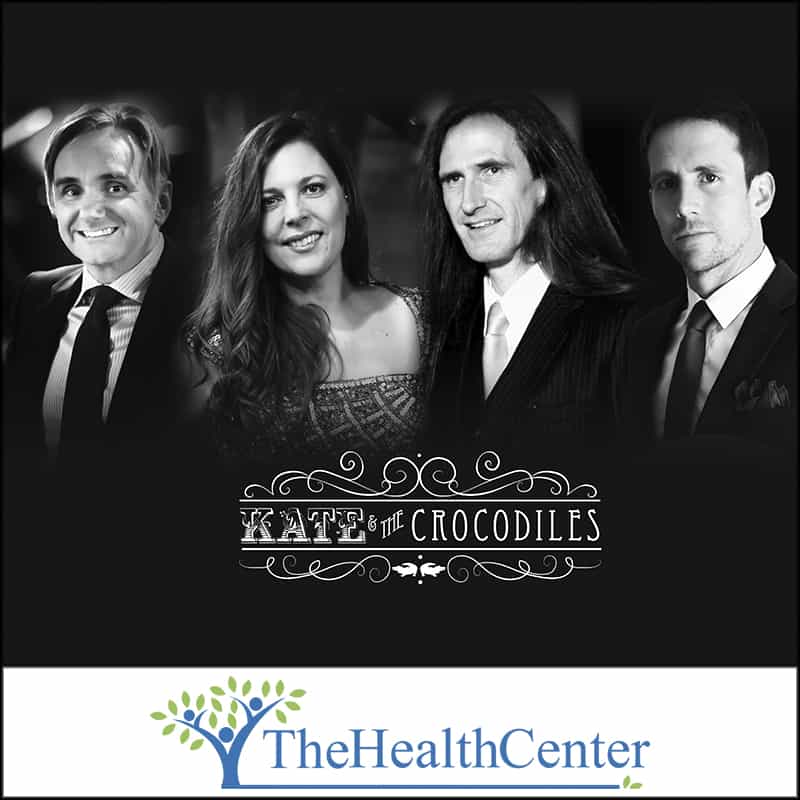 Press Release: Kate and The Crocodiles return for second concert to benefit The Health Center – November 2
Portland-based quartet
Kate & The Crocodiles
return to Walla Walla for a concert to benefit The Health Center at Gesa Power House Theatre on Saturday, November 2 at 7:00 p.m. A pre-show cocktail hour begins at 6:00 p.m.
Kate & The Crocodiles perform indie rock originals and covers, early jazz and jazz standards, reinventions of '70s and '80s rock as ballads, classical art songs mixed with rock, and other surprises from far and wide. They cover a broad spectrum held together by a signature sound informed by classical training and a blending of many genres.
Lead singer Kate Morrison has longstanding ties to Eastern Washington and is happy to lend her support to The Health Center.
"Living in Walla Walla for 23 years, I worked with several nonprofit organizations," says Morrison. "During that time, I helped build the Trilogy Recovery Community programs with the support of The Health Center when both programs were in their early stages. Naturally, the mission of The Health Center and the people who support it have a special place in my heart. My bandmates and I are honored to have another opportunity to perform in support of such a great organization."
Other members of the band include Craig Bidondo, a colorful, energetic, and soulful keyboardist; Gavin Bondy, the intuitive trumpeter of Pink Martini; and Brent Follis a world-class drummer.
This is the second year for the benefit concert. Last year's show had more than two hundred attendees and netted nearly $23,000 for The Health Center. That money went toward hiring an additional mental health counselor at Pioneer Middle School, buying medical supplies for our doctor and nurse practitioners, and purchasing kinetic sand and other therapy supplies.
The Health Center clinics started operations in Walla Walla Public Schools in 2009 at Lincoln High School and expanded to Blue Ridge Elementary in 2012. Since then, The Health Center expanded to Pioneer Middle School in 2016 and, most recently, added a clinic at Walla Walla High School in the fall of 2017.
"The need is great in our community and we at The Health Center are continually challenged to come up with new and creative ways to reach more students in our area," says Executive Director Lindsay Engh. "Last year this event helped us provide mental and physical care to even more of the kids in our area and I know this year's event will yield similar results. Walla Walla is incredibly supportive of our mission and is an important part of the success of The Health Center."
Reserved seating tickets ($35) are available online at 
www.phtww.org
 or by calling the box office at 509-529-6500. A small number of VIP tables (for four people) are also be available for $200 (includes a bottle of wine and stage-side seating).
---
About the Health Center:
Since 2009,
The Health Center
has improved the academic and life success of thousands of students across campuses in the Walla Walla School District by providing on-site, no-cost, physical, mental and coordinated health care services. The Health Center was the first school-based health center to open in Eastern Washington and remains the only facility that operates as a non-profit. The Health Center operates clinics inside Lincoln High School, Walla Walla High School, Pioneer Middle School, Blue Ridge Elementary, and HeadStart/ECEAP Preschool producing documented improvements in the academic and life success of participating students.
---
About the Gesa Power House Theatre
The historic Gesa Power House Theatre is a 300-seat performing arts venue, located in downtown Walla Walla. The 120-year-old building was once the Walla Walla Gas Plant, built to produce coal gas used to light the streets, businesses, and homes of Walla Walla. In 2011 the Gesa Power House Theatre building was transformed into a state-of-the-art playhouse for live performance. The interior design of the theatre was inspired by Shakespeare's own intimate Blackfriars Theatre in London, England.
The Gesa Power House Theatre is on the Washington State Building Preservation Commission list of State historic buildings and on the National Register of Historic Places. The venue also hosts a variety of other cultural events, musical concerts, and private events (including weddings).
For additional marketing and media information, including interviews and hi-res images, contact:
Bradley Nelson
Media Contact
Phone: 509.529-6500
webmaster@phtww.org
Gesa Power House Theatre
111 North Sixth Ave.
Walla Walla, Washington 99362