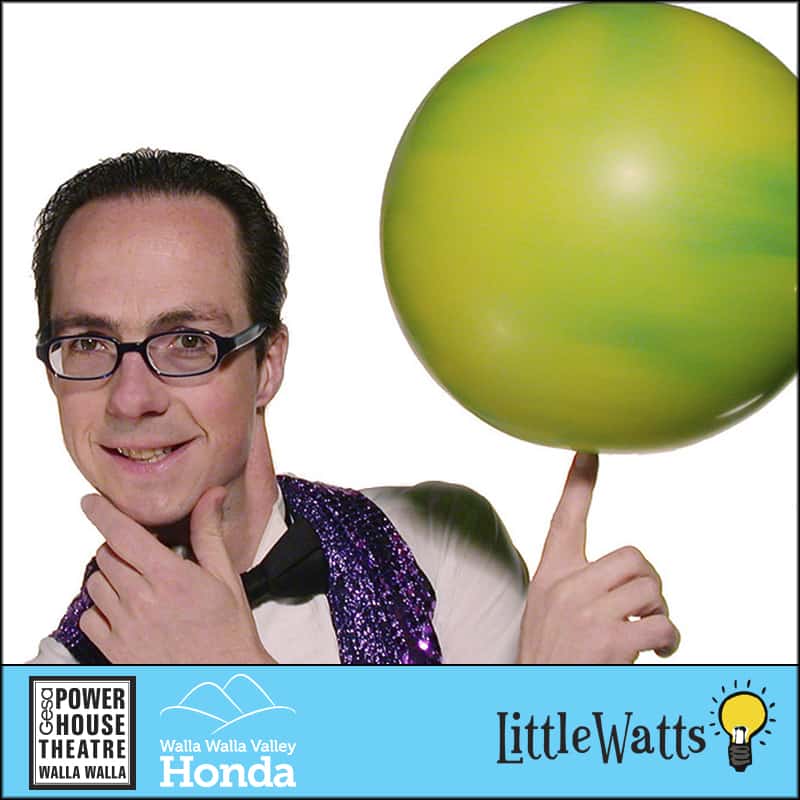 Press Release: "Jugglemania" is fun for the whole family – September 15
Walla Walla Valley Honda presents Jugglemania at Gesa Power House Theatre on Sunday, September 15 at 2:00 p.m. This hour-long, family-friendly show is part of the 2019 Little Watts Children's Series of Family Entertainment.
From rural Oregon to stages in 30 countries, Jugglemania's Rhys Thomas has performed during NBA half-time shows, as an opener for Weird Al Yankovich, and been Artist in Residence at the Smithsonian Institution.
Highly respected in the juggling world, Jugglemania's Rhys Thomas is a recipient of the Ben Linder Memorial Award for Inspiration, has twice been profiled in "Juggle" magazine and appears on several DVD's including "The Jugglers That Jugglers Watch." Rhys was the first juggler awarded an Oregon Arts Fellowship.
Beer, wine, popcorn, and snacks will be available for purchase, and may be taken into the theater.Reserved seating tickets ($12 Adult, $8 Youth 12 and Under) are available online or by calling the box office at 509-529-6500. Gesa Power House Theatre is located at 111 N. 6th Avenue in Walla Walla.
---
The 2019 Little Watts Series of Family Entertainment is sponsored by: Walla Walla Valley Honda. 
---
About the Gesa Power House Theatre
The historic Gesa Power House Theatre is a 300-seat performing arts venue, located in downtown Walla Walla. The 120-year-old building was once the Walla Walla Gas Plant, built to produce coal gas used to light the streets, businesses, and homes of Walla Walla. In 2011 the Gesa Power House Theatre building was transformed into a state-of-the-art playhouse for live performance. The interior design of the theatre was inspired by Shakespeare's own intimate Blackfriars Theatre in London, England.
The Gesa Power House Theatre is on the Washington State Building Preservation Commission list of State historic buildings and on the National Register of Historic Places. The venue also hosts a variety of other cultural events, musical concerts, and private events (including weddings).
For additional marketing and media information, including interviews and hi-res images, contact:
Bradley Nelson
Media Contact
Phone: 509.529-6500
webmaster@phtww.org
Gesa Power House Theatre
111 North Sixth Ave.
Walla Walla, Washington 99362