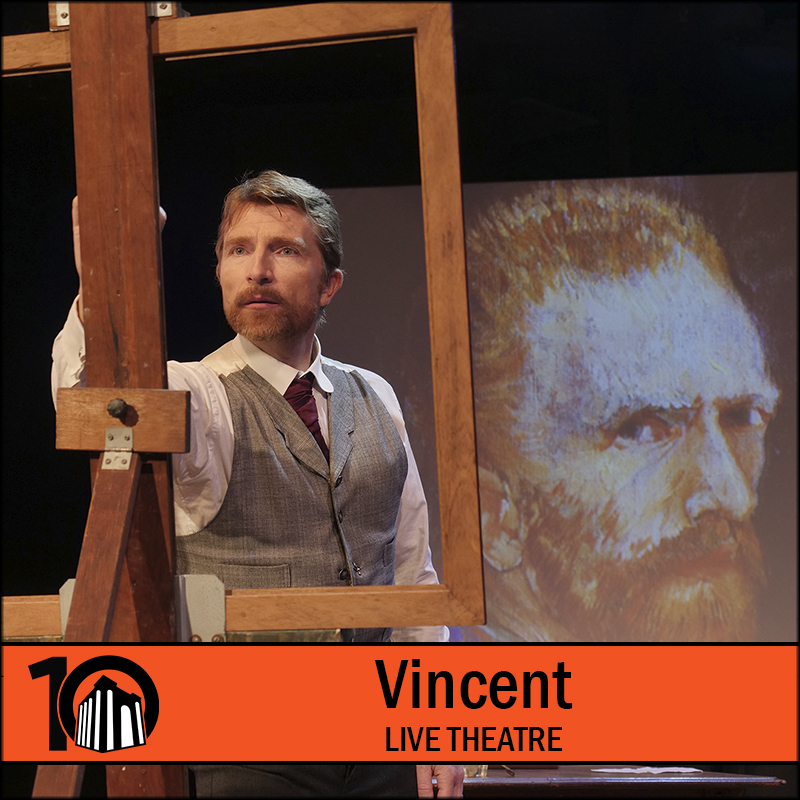 Press Release: Jean-Michel Richaud to perform "Vincent" play – January 21 & 22
Gesa Power House Theatre presents Vincent on Friday, January 21 and Saturday, January 22, at 7:00 p.m.
Vincent is a one-man play written by Leonard Nimoy (Star Trek) and stars Jean-Michel Richaud, who has performed this show for more than five years on an international tour spanning three continents. The play is set just after the death of little-known painter Vincent Van Gogh, while rumors are flying in Paris. Some say he was a penniless madman, a frequenter of prostitutes and soon to be forgotten artist of trifling quality. Others denounce him as a wayward priest and a foreigner. Many whisper that he took his own life in a moment of insanity. His brother Theo (Richaud), Vincent's confidante and lifelong supporter, takes the stage in a rented lecture hall to set the record straight.
Vincent opened in Los Angeles in 2012, where it enjoyed a 14-week sold out run, moved to San Diego for a sold out run in 2013, and then began touring the United States, including many more sold out engagements. In 2015, the play had its French-language premiere in Paris, France, where it was nominated for Best Actor and Best Author awards at the Petits Molieres – the French equivalent of the Tony Awards for small theatres. Vincent has been touring internationally in English and French ever since.
Throughout the play more than a hundred of Van Gogh's paintings are projected on a framed screen, providing a rich overview of the artist's work and visual complement to the story.
Actor Jean-Michel Richaud is a founding member of the award-winning theater company The Next Arena, has starred in many company productions, and has appeared in numerous television and film roles, including What Just Happened with Robert De Niro, Bottle Shock opposite Alan Rickman, and Agent X opposite Sharon Stone. He is also one of the top European voiceover talents in Los Angeles and has dubbed more than 300 movies into French.
Reserved seating tickets ($30-$25 adult, $20 student) are available online or by calling the box office at 509-529-6500.
Additional precautions, such as required mask use, will be observed based on the latest guidance from state and county health departments.
---
Season Sponsors:
Walla Walla Union-Bulletin, Northwest Public Broadcasting, Pacific Power, Hayden Homes
Additional support provided by:
Walla Walla County, Port of Walla Walla, City of Walla Walla
Each Coldwell Banker Office is Independently Owned and Operated
---
About Gesa Power House Theatre
The historic Gesa Power House Theatre is a 300-seat performing arts venue, located in downtown Walla Walla. The 120-year-old building was once the Walla Walla Gas Plant, built to produce coal gas used to light the streets, businesses, and homes of Walla Walla. In 2011 the Gesa Power House Theatre building was transformed into a state-of-the-art playhouse for live performance. The interior design of the theatre was inspired by Shakespeare's own intimate Blackfriars Theatre in London, England.
The Gesa Power House Theatre is on the Washington State Building Preservation Commission list of State historic buildings and on the National Register of Historic Places. The venue also hosts a variety of other cultural events, musical concerts, and private events (including weddings).
Gesa Power House Theatre is owned and operated by Power House Theatre Walla Walla, a 501(c)(3) nonprofit organization.
For additional marketing and media information, including interviews and hi-res images, contact:
Bradley Nelson
Media Contact
Phone: 509.529-6500
webmaster@phtww.org
Gesa Power House Theatre
111 North Sixth Ave.
Walla Walla, Washington 99362