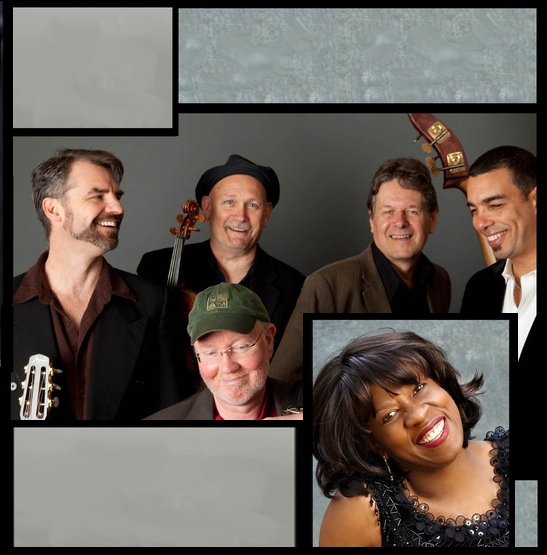 Press Release: Gail Pettis & Pearl Django Jazz Concert – May 27
March 16, 2016 – Earshot Magazine's 2010 Northwest Vocalist of the Year Gail Pettis joins forces with
Pearl Django
– one of America's most respected and busiest Hot Club style groups – for an evening of jazz at Gesa Power House Theatre on Friday, May 27 at 7:00 p.m.
Gail Pettis
grew up singing "church music" in Gary, Indiana, but it wasn't until she moved to Seattle in 1996 that she began to pursue a second career in music. She closed her orthodontic practice in 2006 and released her first solo album in 2007. Her rich, warm vocal and understated phrasing was described as "deliciously soulful" by Cadence Magazine.
Pettis values the freedom of personal expression she finds in music. "For me, emotion is the currency of jazz," she says. "Over the years, I have learned that wearing your heart on your sleeve is not always the best approach to every life situation, but within the context of music, vulnerability always feels right."
With a performance history spanning more than two decades, Pearl Django is regarded as one of America's finest gypsy jazz bands. The band's focus is incorporating the music of Django Reinhardt and Stephane Grappelli with American swing music.
Pearl Django's extensive repertoire includes traditional jazz classics and original compositions. Their music reaches out across the divides of taste to a wide variety of audiences. The band's fervent followers include Django Reinhardt and Stephane Grappelli fans, guitar enthusiasts, lovers of string music – including bluegrass devotees who relish nimble, clean, intricate picking – world music fans drawn to French and Gypsy accents, jazz buffs, and aficionados of the new swing music.
Pearl Django has played at the prestigious Festival Django Reinhardt in Samois sur Seine and has been featured on NPR's "All Things Considered." The band's signature style is marked by pristine and dexterous string work, the steady pulse of rhythm guitar and an unmistakable swing that delights audiences of all musical sensibilities. They have released 11 albums to date.
Reserved seating tickets ($30-$25) go on sale to the public on April 8. More information about upcoming events can be found at 
www.phtww.org
.
---
About the Gesa Power House Theatre
The historic Gesa Power House Theatre is a world-class, 342 seat performing arts venue, located in downtown Walla Walla. The 120-year-old building was once the Walla Walla Gas Plant, built to produce coal gas used to light the streets, businesses, and homes of Walla Walla. In 2011 the Gesa Power House Theatre building was transformed into a state-of-the-art playhouse for live performance. The interior design of the theatre was inspired by Shakespeare's own intimate Blackfriars Theatre in London, England.
The Gesa Power House Theatre is on the Washington State Building Preservation Commission list of State historic buildings and on the National Register of Historic Places. Home to Shakespeare Walla Walla, a nonprofit organization working to bring Shakespearean theater and other events to Walla Walla, the venue also hosts a variety of other cultural events, musical concerts, and private events (including weddings).
For additional marketing and media information, including interviews and hi-res images, contact:
Michelle Liberty
Media Contact
Phone: 509.629.0584
bookings@phtww.org
Gesa Power House Theatre
111 North Sixth Ave.
Walla Walla, Washington 99362
509.529.6500