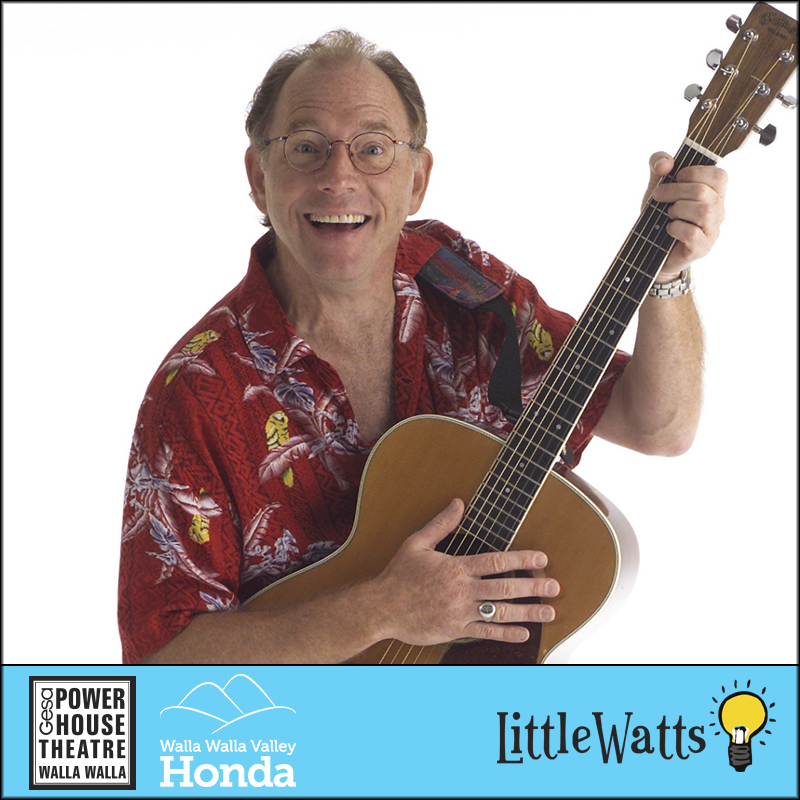 Press Release: Family entertainer Red Grammer in concert October 6
Walla Walla Valley Honda presents 
Red Grammer
at Gesa Power House Theatre on Sunday, October 6 at 2:00 p.m. This hour-long show is part of the 2019 Little Watts Children's Series of Family Entertainment and is appropriate for all ages.
Red Grammer is one of the premier entertainers of children and families in the world. Described by Parent's Magazine as "the best voice in children's music" Red has set the gold standard for writing and performing music that playfully reconnects us with the best in ourselves.
Red can be heard tickling and nourishing hearts and souls via his award-winning recordings; his numerous appearances on television (The Today Show, CBS This Morning, Nickelodeon, Showtime, PBS, The Disney Channel); his unforgettable live concerts; his award-winning DVD (Hooray for the World); his Grammy-nominated album, Bebop Your Best: Songs to Build Character By; and as a featured artist on the 2005 Grammy-winning Best Musical Album for Children, cEllabration: A Tribute To Ella Jenkins. His latest release is Circle of Light: Songs for Bucketfillers, a vibrant collection of new songs created in collaboration with Carol McCloud, author of the bestselling children's book, Have You Filled A Bucket Today?, that celebrate positivity and the desire to make the world a better place.
Beloved by children and parents around the world, Red's children's recordings are a treasured resource for teachers who use them to communicate the themes of caring, excellence, oneness, and diversity in a language kids instantly understand and eagerly embrace. Combining one of the truly great voices in the business with an unerring sense of performance and play, Red's live concerts delight audiences, young and old, in venues all across America and abroad.
Beer, wine, popcorn, and snacks will be available for purchase, and may be taken into the theater.
Reserved seating tickets ($12 Adults, $8 Youth 12 and under) are available online at 
www.phtww.org
or by calling the box office at 509-529-6500.
---
The 2019 Little Watts Series of Family Entertainment is sponsored by: Walla Walla Valley Honda. 
---
About the Gesa Power House Theatre
The historic Gesa Power House Theatre is a 300-seat performing arts venue, located in downtown Walla Walla. The 120-year-old building was once the Walla Walla Gas Plant, built to produce coal gas used to light the streets, businesses, and homes of Walla Walla. In 2011 the Gesa Power House Theatre building was transformed into a state-of-the-art playhouse for live performance. The interior design of the theatre was inspired by Shakespeare's own intimate Blackfriars Theatre in London, England.
The Gesa Power House Theatre is on the Washington State Building Preservation Commission list of State historic buildings and on the National Register of Historic Places. The venue also hosts a variety of other cultural events, musical concerts, and private events (including weddings).
For additional marketing and media information, including interviews and hi-res images, contact:
Bradley Nelson
Media Contact
Phone: 509.529-6500
webmaster@phtww.org
Gesa Power House Theatre
111 North Sixth Ave.
Walla Walla, Washington 99362