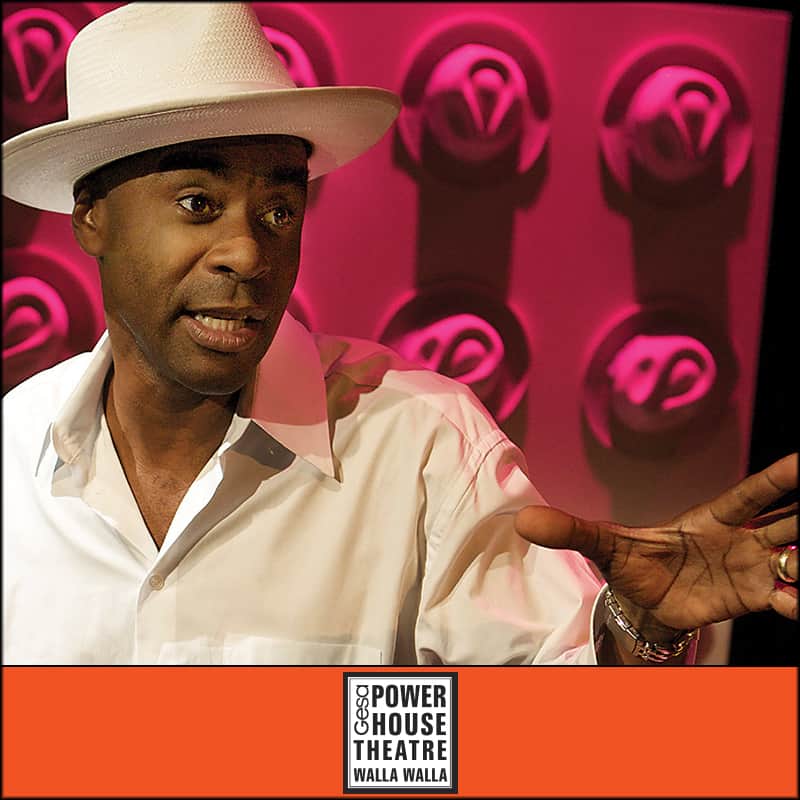 Press Release: Don Reed in "East 14th" solo show – April 18
The presentation of actor and comedian Don Reed's Off Broadway hit solo show East 14th at Gesa Power House Theatre on Saturday, April 18 was postponed due to pandemic restrictions.
Growing up in Oakland, California, Don Reed's mother and stepfather raised him to be a middle-class, straight-A, God-fearing church boy, but Don Reed wanted to be like his biological father. Too bad he didn't know that dear old dad was an actual pimp.
Don Reed has written, performed, directed, and produced five solo shows in New York City, San Francisco, Oakland, Berkeley, and Los Angeles. His flagship show East 14th was so popular in Berkeley, it was extended 22 times, and spurred the opening of a second Marsh theater, where it ran for an additional 18 months. The show earned Reed the 2016 TBA: Theater Bay Area Award for Outstanding Production of a Solo Show and an NAACP Double Nominee for Best Actor & Best Playwright, and in 2016, he won the Performance of the Year award on NPR's "Snap Judgement" with an excerpt from East 14th titled "I Miss Toni."
Don Reed is currently playing one of the lead roles in the Amazon Prime comedy series Bartlett, co-financed and with recurring role by Lin Manuel Miranda – composer/creator of the Broadway smash Hamilton. Reed is also currently producing Robert Townsend's solo tour de force Living the Shuffle.
Don Reed's memorable performance on an HBO Partners and Crime special of up-and-coming comedians years ago caught the attention of Hollywood and led to many recurring and guest starring roles. You may have heard his voice on: Spiderman, Johnny Quest, SNL, and most recently as the voice of the cat on 2 Broke Girls. Additionally, Don has written, directed, produced and starred in short films for HBO Shorts, and can be seen on Netflix in the feature film Unleashed alongside stars from Showtime's Shameless. Reed was the opening act/warm-up comedian for The Tonight Show with Jay Leno for more than 1,000 episodes, and recently shared an excerpt story from East 14th – on NPR/WYNC's Snap Judgment so compelling that it will be woven into the graduate writing curriculum at American University in Washington D.C.
---
This event is sponsored by:


The 2020 Gesa Power House Theatre Season is sponsored by:
Courtyard Marriott, KAPP-KVEW TV, Inland Cellular
McCurley Integrity Toyota of Walla Walla, Northwest Public Broadcasting, Pacific Power
Additional support provided by:
Walla Walla County, Port of Walla Walla, City of Walla Walla
Each Coldwell Banker Office is Independently Owned and Operated
---
About the Gesa Power House Theatre
The historic Gesa Power House Theatre is a 300-seat performing arts venue, located in downtown Walla Walla. The 120-year-old building was once the Walla Walla Gas Plant, built to produce coal gas used to light the streets, businesses, and homes of Walla Walla. In 2011 the Gesa Power House Theatre building was transformed into a state-of-the-art playhouse for live performance. The interior design of the theatre was inspired by Shakespeare's own intimate Blackfriars Theatre in London, England.
The Gesa Power House Theatre is on the Washington State Building Preservation Commission list of State historic buildings and on the National Register of Historic Places. The venue also hosts a variety of other cultural events, musical concerts, and private events (including weddings).
For additional marketing and media information, including interviews and hi-res images, contact:
Bradley Nelson
Media Contact
Phone: 509.529-6500
webmaster@phtww.org
Gesa Power House Theatre
111 North Sixth Ave.
Walla Walla, Washington 99362