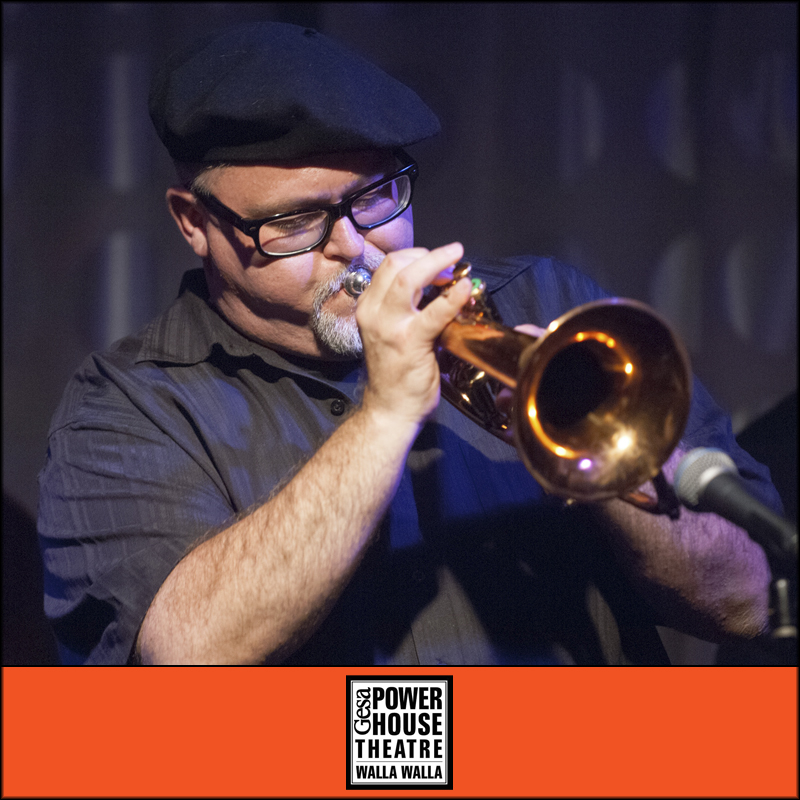 Press Release: Dmitri Matheny "Jazz Noir" – February 10
Gesa Power House Theatre presents "Jazz Noir" performed by The Dmitri Matheny Group on Friday, February 10 at 7:00 p.m.
Directed by Dmitri Matheny ("one of the most emotionally expressive improvisers of his generation" -International Review of Music), the Dmitri Matheny Group has developed an engaging repertoire and a strong international following. The group's signature sound pleases both crowds and critics, balancing fresh, original works with familiar jazz classics, hard bop, west coast cool and selections from their 10 critically-acclaimed albums.
Dmitri Matheny will perform on the flugelhorn along with Greg Yasinitsky (saxophone), Matt Cooper (piano), Luke McKern (bass) and Mark Emerson (drums).
Dmitri Matheny has performed with the Temptations, the Four Tops, Bobby Rydell, and Frankie Avalon and the O'Jays, and he appears on more than 70 albums as composer, arranger, producer, annotator, or flugelhorn soloist.
Matheny's film scoring and soundtrack credits include the PBS documentary Mary, Paradox and Grace (1996), the short film Greenhorn Creek (1997), the San Francisco Museum of Modern Art production Voices and Images of California Art (1997), and the RKO Pictures feature film Shade (2003), directed by Damian Nieman and starring Gabriel Byrne, Jamie Foxx, Melanie Griffith, Thandie Newton, Sylvester Stallone and Stewart Townsend.
Reserved seating tickets ($29-$24) are available online or by calling the box office at 509-529-6500. More information about upcoming events can be found at www.phtww.org.
---
About the Gesa Power House Theatre
The historic Gesa Power House Theatre is a world-class, 342 seat performing arts venue, located in downtown Walla Walla. The 120-year-old building was once the Walla Walla Gas Plant, built to produce coal gas used to light the streets, businesses, and homes of Walla Walla. In 2011 the Gesa Power House Theatre building was transformed into a state-of-the-art playhouse for live performance. The interior design of the theatre was inspired by Shakespeare's own intimate Blackfriars Theatre in London, England.
The Gesa Power House Theatre is on the Washington State Building Preservation Commission list of State historic buildings and on the National Register of Historic Places. The venue also hosts a variety of other cultural events, musical concerts, and private events (including weddings).
For additional marketing and media information, including interviews and hi-res images, contact:
Bradley Nelson
Media Contact
Phone: 509.529-6500
webmaster@phtww.org
Gesa Power House Theatre
111 North Sixth Ave.
Walla Walla, Washington 99362