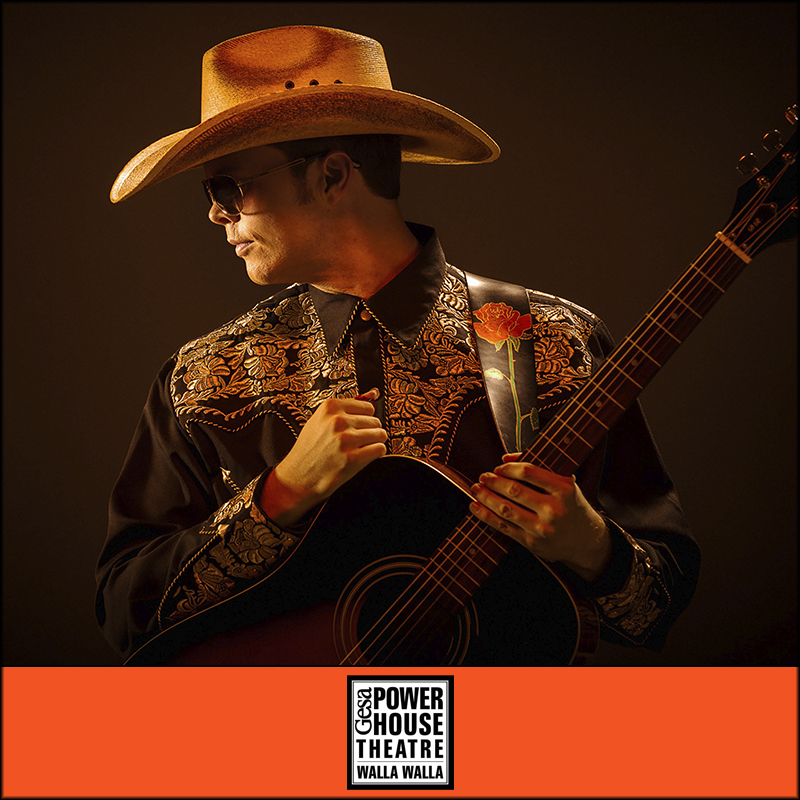 Press Release: Chase Padgett returns with one-man "Nashville Hurricane" show – Sept. 29
Gesa Power House Theatre presents Chase Padgett in his one-man show Nashville Hurricane on Saturday, September 29 at 7:00 p.m.
About 40 years ago, a mysterious acoustic guitarist appeared from nowhere, conquered the music industry, and vanished without a trace… until now.
Chase Padgett becomes a manager, a mother, a mentor, and the guitar prodigy himself as each one tells their side of the rise, demise, and resurrection of the best damn guitar player you've never heard of: the Nashville Hurricane.
Orlando Weekly calls Nashville Hurricane "Laugh out loud funny," and the Calgary Herald calls it "A marvel of storytelling."
During the course of this one man masterpiece the audience learns about Henry Waltrip (the Nashville Hurricane) from his humble trailer park beginnings with his mother, Brenda, to crazy gigs on the road with his blues-playing mentor, Tyrone. The stories and songs unfold into hilarious rants on love and music, a riveting tale involving the dark side of show biz, and blazing guitar work leading up to the finale: a one-man acoustic rendition of "Devil Went Down to Georgia."
Chase Padgett last performed at Gesa Power House Theatre in 2017 with his show 6 Guitars.
Reserved seating tickets (Adults $35-$25; $20 Students) are available online (www.phtww.org) or by calling the box office at 509-529-6500. Group discounts are also available by calling 509-876-1662.
# # #
The 2018 Season is supported in part by: Coldwell Banker First Realtors, Foundry Vineyards, KAPP-KVEW, Inland Cellular, Pacific Power, McCurley Integrity Toyota of Walla Walla.
---
About the Gesa Power House Theatre
The historic Gesa Power House Theatre is a 300-seat performing arts venue, located in downtown Walla Walla. The 120-year-old building was once the Walla Walla Gas Plant, built to produce coal gas used to light the streets, businesses, and homes of Walla Walla. In 2011 the Gesa Power House Theatre building was transformed into a state-of-the-art playhouse for live performance. The interior design of the theatre was inspired by Shakespeare's own intimate Blackfriars Theatre in London, England.
The Gesa Power House Theatre is on the Washington State Building Preservation Commission list of State historic buildings and on the National Register of Historic Places. The venue also hosts a variety of other cultural events, musical concerts, and private events (including weddings).
For additional marketing and media information, including interviews and hi-res images, contact:
Bradley Nelson
Media Contact
Phone: 509.529-6500
webmaster@phtww.org
Gesa Power House Theatre
111 North Sixth Ave.
Walla Walla, Washington 99362