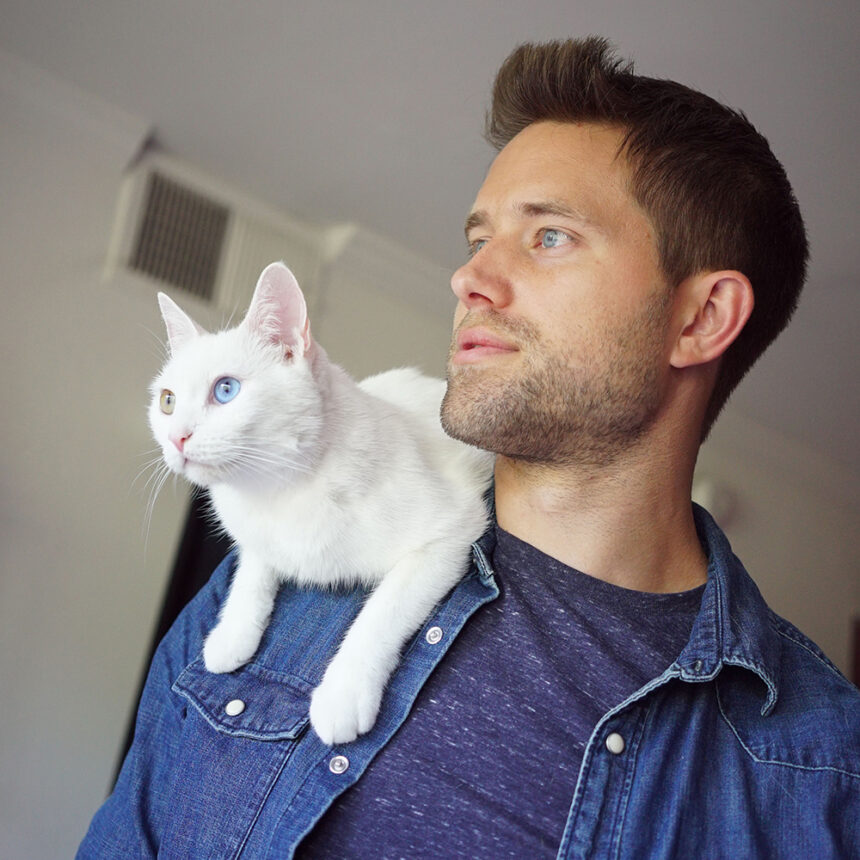 Press Release: "Cat Daddies" (documentary) – July 20
Gesa Power House Theatre presents a Power House Movie screening of the new documentary Cat Daddies on Wednesday, July 20 at 7:00 pm. This screening, previously scheduled for June 29, had to be rescheduled due to technical difficulties.
David Giovanni is living on the streets of New York, determined to stay together with his beloved cat Lucky. When he's finally granted a spot in a transitional housing facility that accepts cats, the COVID-19 pandemic and a devastating medical diagnosis puts his future together with Lucky in doubt.
David's journey is interspersed with portraits of eight other "cat dads" from all over the country and some who struggle to navigate the unprecedented events of 2020 with their little furry friends. They include a group of firefighters, a stunt man, a truck driver, a Bay Area tech worker, a schoolteacher whose cat becomes a viral sensation, and an actor/Instagram influencer. These men couldn't be more different, but they share an unconditional love of their beloved pets. Cat Daddies is a refreshing and timely exploration of modern masculinity and the unlikely bond between man and cat.
Blue Mountain Human Society will be on site for this event to promote local pet adoption opportunities.
The Power House Movie Series showcases award-winning festival favorites, feature-length narratives, documentaries, and undiscovered gems, paired with exclusive content from the movie makers themselves – most often in conversation with Gesa Power House Theatre Director of Film Programming, Warren Etheredge.
Reserved seating tickets ($15 adult, $10 students) are available online or by calling the box office at 509-529-6500. Gesa Power House Theatre is located at 111 N. 6th Avenue in downtown Walla Walla.
---
The Power House Movies Series continues:
All Ages Show (local documentary)
Wednesday, July 6
---
About Gesa Power House Theatre
The historic Gesa Power House Theatre is a 300-seat performing arts venue, located in downtown Walla Walla. The 120-year-old building was once the Walla Walla Gas Plant, built to produce coal gas used to light the streets, businesses, and homes of Walla Walla. In 2011 the Gesa Power House Theatre building was transformed into a state-of-the-art playhouse for live performance. The interior design of the theatre was inspired by Shakespeare's own intimate Blackfriars Theatre in London, England.
The Gesa Power House Theatre is on the Washington State Building Preservation Commission list of State historic buildings and on the National Register of Historic Places. The venue also hosts a variety of other cultural events, musical concerts, and private events (including weddings).
Gesa Power House Theatre is owned and operated by Power House Theatre Walla Walla, a 501(c)(3) nonprofit organization.
For additional marketing and media information, including interviews and hi-res images, contact:
Bradley Nelson
Media Contact
Phone: 509.529-6500
webmaster@phtww.org
Gesa Power House Theatre
111 North Sixth Ave.
Walla Walla, Washington 99362