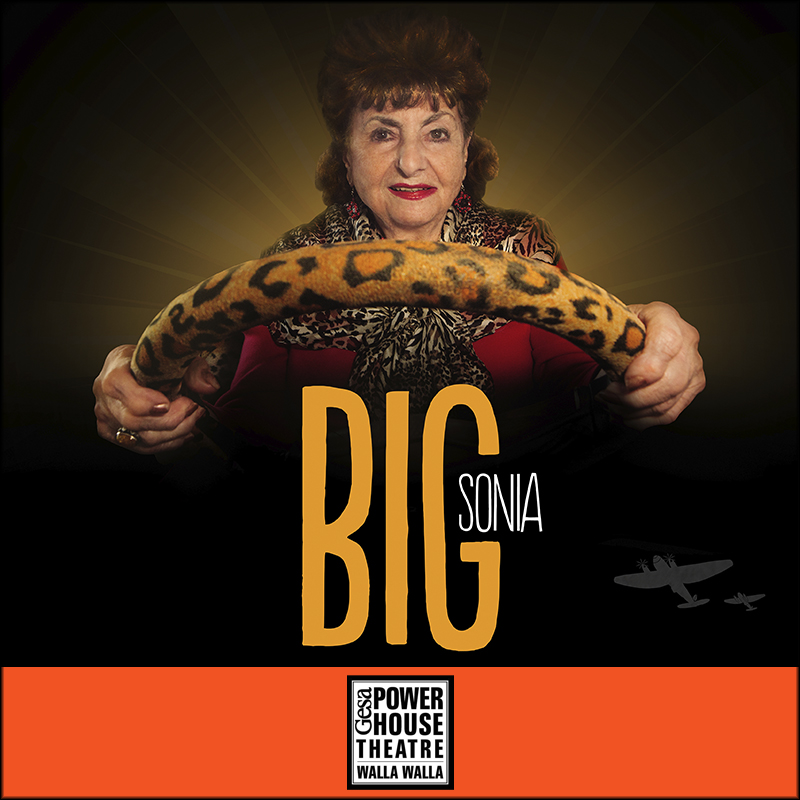 Press Release: "Big Sonia" documentary film screens on January 27
Gesa Power House Theatre will screen the documentary film "
Big Sonia
" on International Holocaust Remembrance Day, Saturday, January 27, 2018 at 7:00 p.m. Three representatives from
Congregation Beth Israel
– a Reform Jewish synagogue in Walla Walla – will introduce the film and lead a short discussion following the screening.
Standing tall at 4'8″, Sonia Warshawski (91) is one of the last remaining Holocaust survivors in Kansas City and one of the only survivors there who speaks publicly about her wartime experience. Sonia's enormous personality and fragile frame mask the horrors she endured. At 15 she watched her mother disappear behind gas chamber doors. Sonia's teenage years were a blur of concentration camps and death marches. On liberation day, she was accidentally shot through the chest, yet again miraculously survived. Sonia is the ultimate survivor, a bridge between cultures and generations.
For years, Sonia has been an inspirational public speaker at schools and prisons, where her stories of surviving the Holocaust as a teenager have inspired countless people who once felt their own traumas would leave them broken forever. But when Sonia is served an eviction notice for her iconic tailor shop (in a dead mall), she's confronted with an agonizing decision: either open up a new shop, or retire. Ironically, Sonia's shop is the last open business in an otherwise desolate Kansas City mall, but it contains enough color and liveliness to make up for the entire empty complex. For a woman who admits she stays busy "to keep the dark parts away", facing retirement dredges up fears she'd long forgot she had, and her horrific past resurfaces.
"Big Sonia" explores what it means to be a survivor and how inter-generational trauma affects families and generations.
Reserved seating tickets ($15 Adults, $10 Students) are available online at www.phtww.org or by calling the box office at 509-529-6500.
 # # #
Awards for "Big Sonia"
Grand Jury Prize: Best Documentary, Barcelona International Film Festival, 2017
Best Film / Audience Award, Cleveland International Film Festival, 2017
Best Documentary, Wilbur Award for Religious Communicators, 2017
Best Documentary, Napa Film Festival, 2016
Audience Award, Napa Film Festival, 2016
Best Heartland Documentary, Kansas City Film Festival, 2017
AARP Movies For GrownUps Nominee, 2017
Best Documentary / Audience Award, Monadnock International Film Festival, 2017
Audience Award, Seattle Jewish Film Festival, 2017
Audience Award, Philadelphia Jewish Film Festival, 2017
Audience Award, Mendocino Film Festival, 2017
Shanghai International Film Festival (only US-­-made doc in competition), 2017
Audience Award, Berkshire Jewish Film Festival, 2017
Best Local Film, Movie Trip Cinema (Kansas City), 2017
# # #
The 2018 Season is supported in part by: KAPP-KVEW, Coldwell Banker First Realtors, Foundry Vineyards, Courtyard Marriott, Inland Cellular, Pacific Power, McCurley Integrity Toyota of Walla Walla.
---
About the Gesa Power House Theatre
The historic Gesa Power House Theatre is a 300-seat performing arts venue, located in downtown Walla Walla. The 120-year-old building was once the Walla Walla Gas Plant, built to produce coal gas used to light the streets, businesses, and homes of Walla Walla. In 2011 the Gesa Power House Theatre building was transformed into a state-of-the-art playhouse for live performance. The interior design of the theatre was inspired by Shakespeare's own intimate Blackfriars Theatre in London, England.
The Gesa Power House Theatre is on the Washington State Building Preservation Commission list of State historic buildings and on the National Register of Historic Places. The venue also hosts a variety of other cultural events, musical concerts, and private events (including weddings).
For additional marketing and media information, including interviews and hi-res images, contact:
Bradley Nelson
Media Contact
Phone: 509.529-6500
webmaster@phtww.org
Gesa Power House Theatre
111 North Sixth Ave.
Walla Walla, Washington 99362