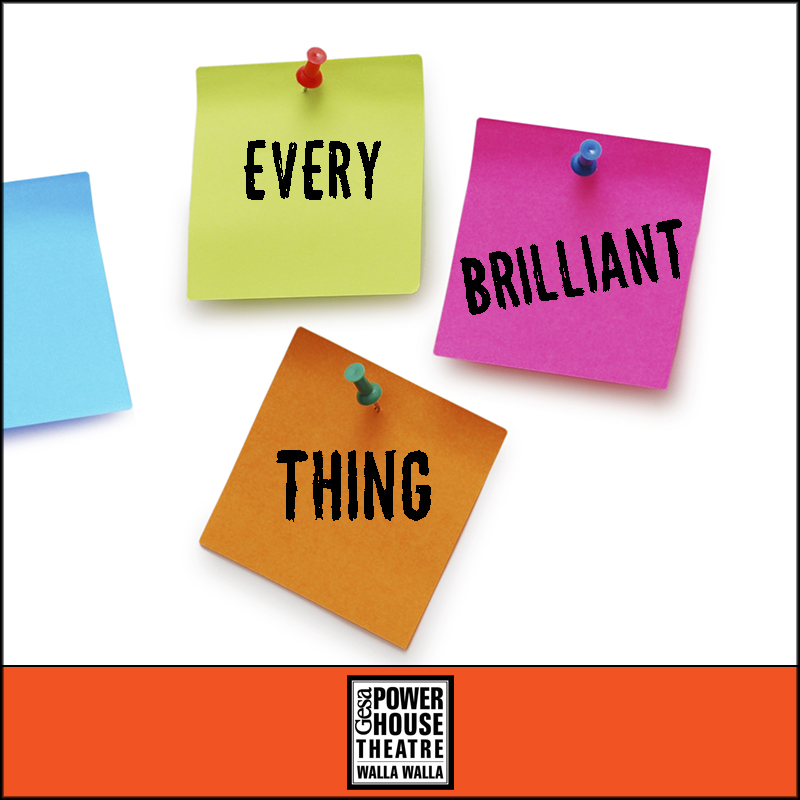 Press Release: Auditions for "Every Brilliant Thing" held on July 29
July 21, 2017 – Gesa Power House Theatre announces auditions for "Every Brilliant Thing" – a one-actor play directed by Nancy Simon.
"
Every Brilliant Thing
" was adapted by playwright Duncan McMillan from his own short story "Sleeve Notes". British comedian Jonny Donahue, who originated the role, shares in the writing credit. The play's title refers to a list – of everything wonderful in the world – that the narrator writes in an effort to combat negative thoughts and depression.
With a story spanning nearly three decades and several life-changing events, evoking laughter and tears in equal measure, "Every Brilliant Thing" has received critical acclaim in London, Edinburgh, and Off-Broadway in New York City.
"It's the funniest play you're ever likely to see about depression, and also the most moving" – British Theatre Guide
"Every Brilliant Thing" will be directed by Whitman College Professor Emerita Nancy Simon. Rehearsals will begin in August.
Nancy Simon will be casting one actor, of any gender or ethnicity, age range 35-50. The role requires sweetness, vulnerability, and strong skills in memorization, improvisation, and comfort working with an audience. This is a paid position; the actor will receive a salary of $500 or a percentage of the profits, whichever is greater.
Small group auditions will be held on Saturday, July 29, from 1:30-3:00 p.m. and 3:30-5:00 p.m. To sign up, please send an e-mail to backstage@phtww.org with your preferred time slot.
For more information about any of the events at Gesa Power House Theatre visit www.phtww.org or call the box office at 509-529-6500.
The 2017 Season is also supported in part by: KAPP-KVEW, Coldwell Banker First Realtors, Foundry Vineyards, Courtyard Marriott, Inland Cellular, Pacific Power, McCurley Integrity Toyota of Walla Walla.
# # #
---
About the Gesa Power House Theatre
The historic Gesa Power House Theatre is a 300-seat performing arts venue, located in downtown Walla Walla. The 120-year-old building was once the Walla Walla Gas Plant, built to produce coal gas used to light the streets, businesses, and homes of Walla Walla. In 2011 the Gesa Power House Theatre building was transformed into a state-of-the-art playhouse for live performance. The interior design of the theatre was inspired by Shakespeare's own intimate Blackfriars Theatre in London, England.
The Gesa Power House Theatre is on the Washington State Building Preservation Commission list of State historic buildings and on the National Register of Historic Places. The venue also hosts a variety of other cultural events, musical concerts, and private events (including weddings).
For additional marketing and media information, including interviews and hi-res images, contact:
Bradley Nelson
Media Contact
Phone: 509.529-6500
webmaster@phtww.org
Gesa Power House Theatre
111 North Sixth Ave.
Walla Walla, Washington 99362