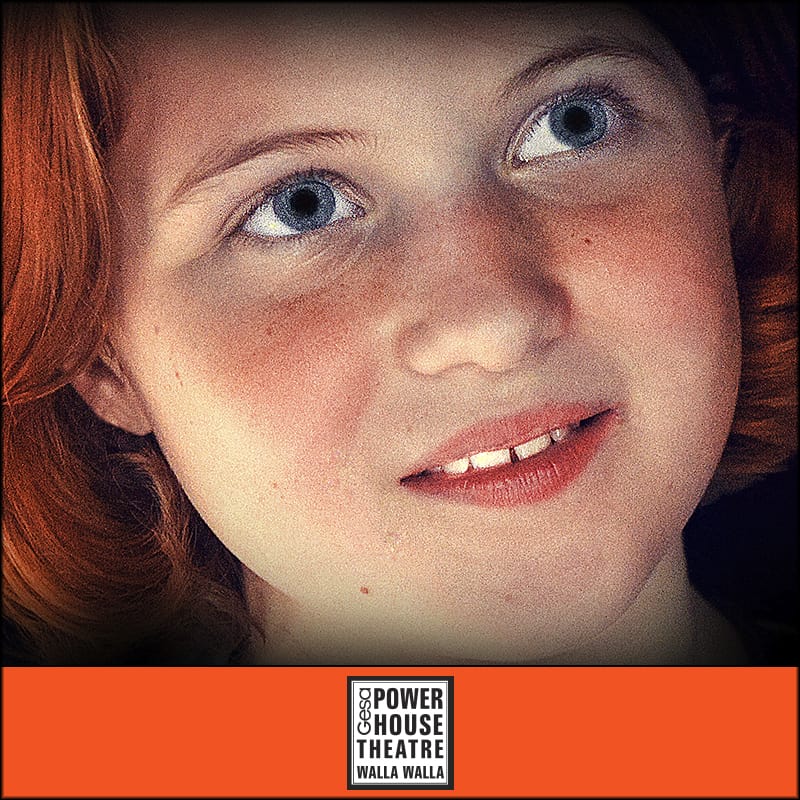 Press Release: Annie the Musical (July 27 – August 5)
Gesa Power House Theatre will stage two musicals in July and August as part of a new Walla Walla Summer Stage series. First up is Annie: The Musical with performances July 27 through August 5, followed by 9 to 5: The Musical with performances August 17 through August 26.
Based on the popular comic strip by Harold Gray, Annie: The Musical became a worldwide phenomenon and was the winner of seven Tony Awards, including Best Musical. The book and score by Tony Award winners Thomas Meehan, Charles Strouse, and Martin Charnin includes popular hits such as "Hard Knock Life" and "Tomorrow."
With equal measures of pluck and positivity, little orphan Annie charms everyone's hearts despite a next-to-nothing start in 1930s New York City. Annie is determined to find the parents who abandoned her years ago on the doorstep of a New York City orphanage that is run by the cruel, embittered Miss Hannigan. With the help of the other girls in the orphanage, Annie escapes to the wondrous world of NYC, and finds a new home and family in billionaire Oliver Warbucks, his personal secretary, Grace Farrell, and a lovable mutt named Sandy.
This production of Annie is directed by former New York director and Walla Walla native Tyson Kaup who previously directed The Rocky Horror Picture Show, The Last 5 Years, and Cabaret at Gesa Power House Theatre.
The cast of Annie is as follows:
ANNIE – Abigayle Rolfe
OLIVER WARBUCKS – Thomas Beebe
MISS HANNIGAN – Jimmy Vaughan
GRACE FARRELL – Cari Wilton
ROOSTER – Daniel Rose
LILY – Chanel Finnie
MOLLY – Mae Blethen
KATE – Frances Lastoskie
TESSIE – Sydney Bridgeland
JULY – Claire Marr
PEPPER – Catie Allen
DUFFY – Libby Drabek
GERTRUDE – Caroline Blethen
ENSEMBLE – Nathan Loomer, Anthony Ochoa, Isaiah Stodola, Peter Hoffman, Romey Drabek, Amanda Loney, Lola Bloom, Alyssa Shenefield
Musicians:
Bryson Jacob (VIOLIN)
Tall Sam Jones (REED)
Skyler Mendell (TRUMPET)
Rachel Prull (BASS)
Carson Schmidt (KEYBOARD)
Paul Vandervort (TROMBONE)
Thorin Zanger (DRUMS)
Performance schedule:
July 27 – 7:00 p.m.
July 28 – 2:00 p.m. & 7:00 p.m.
July 29 – 2:00 p.m.
Aug. 3 – 7:00 p.m.
Aug. 4 – 2:00 p.m. & 7:00 p.m.
Aug. 5 – 2:00 p.m.
Beer and wine will be available for purchase, and may be taken into the theater. Outside food and beverages are not allowed.
Reserved seating tickets ($35-$25 Adults; $20 Students; $15 Youth 17 and under) are available online or by calling the box office at 509-529-6500. For group ticket sales, please call 509-876-1662.
Annie is sponsored in part by: Passatempo / The Walls, Courtyard Marriott, Premier Mortgage Resources, Edward Jones – Hank Worden, Falkenbergs Jewelers, Gesa Credit Union, Hayden Homes, Impress Salon, Sotheby's International Realty, and Columbia Title.
---
The 2018 Season is supported in part by: Coldwell Banker First Realtors, Foundry Vineyards, KAPP-KVEW, Inland Cellular, Pacific Power, McCurley Integrity Toyota of Walla Walla.
---
About the Gesa Power House Theatre
The historic Gesa Power House Theatre is a 300-seat performing arts venue, located in downtown Walla Walla. The 120-year-old building was once the Walla Walla Gas Plant, built to produce coal gas used to light the streets, businesses, and homes of Walla Walla. In 2011 the Gesa Power House Theatre building was transformed into a state-of-the-art playhouse for live performance. The interior design of the theatre was inspired by Shakespeare's own intimate Blackfriars Theatre in London, England.
The Gesa Power House Theatre is on the Washington State Building Preservation Commission list of State historic buildings and on the National Register of Historic Places. The venue also hosts a variety of other cultural events, musical concerts, and private events (including weddings).
For additional marketing and media information, including interviews and hi-res images, contact:
Bradley Nelson
Media Contact
Phone: 509.529-6500
webmaster@phtww.org
Gesa Power House Theatre
111 North Sixth Ave.
Walla Walla, Washington 99362