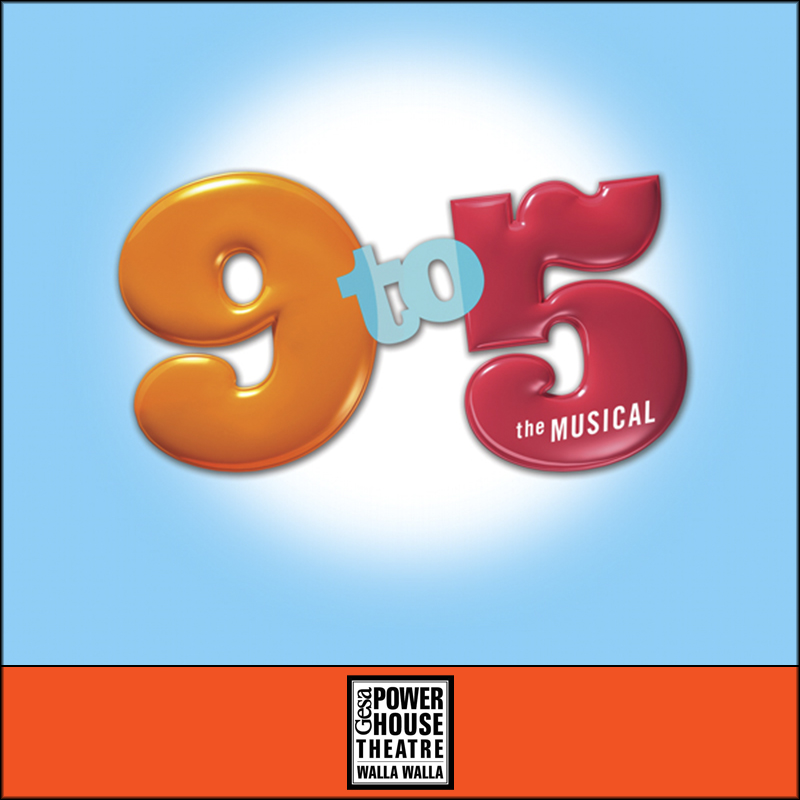 Press Release – "9 to 5: The Musical" (August 17-26)
Gesa Power House Theatre launches the new Walla Walla Summer Stage Series with two musicals scheduled for Summer 2018 – Annie the Musical (July 27 – August 5) and 9 to 5: The Musical (August 17 – 26). Both productions are directed by former New York director and Walla Walla native Tyson Kaup (Last 5 Years, Cabaret).
9 to 5 features music and lyrics by Dolly Parton and is based on the 1980 hit movie of the same name. Set in the late 1970s, this comedic story of friendship and revenge in the Rolodex era is outrageous, thought-provoking and even a little romantic.
Pushed to the boiling point, three female coworkers concoct a plan to get even with the sexist, egotistical, lying, hypocritical bigot they call their boss. Violet, Judy and Doralee live out their wildest fantasy – giving their boss the boot! While Hart remains "otherwise engaged," the women give their workplace a dream makeover, taking control of the company that had always kept them down.
According to Director Tyson Kaup, 9 to 5 speaks to the current social climate and tackles a serious subject, but does so balanced with humor.
"Part of the brilliance of the style of 9 to 5, is that it manages to convey a really important message through humor and play without being judgmental or lecturing," says Kaup. "It doesn't take itself too seriously."
The cast for 9 to 5 is as follows:
VIOLET – Heather Lynn
JUDY – Dani Hobbs
DORALEE – Kristin Glaeser
FRANKLIN HART – Chris Maxfield
ROZ – Martina Paris-Fully
JOE – Eric Rohde
ENSEMBLE: Rebecca Kelly, Janine Wheeler, Richele Heilbrun, Carrie LaRoy, Daniel Rose, Daniel Lovato, Kory Carterby, Sergio Munoz, Abigail Wissink, Oriana Golden
Musicians:
Silas Brannan, Nate Miller, Tall Sam Jones, Carson Schmidt, Kevin Stauffer, Paul Vandervort, Thorin Zanger
Performance schedule:
Friday, August 17 – 7:00 p.m.
Saturday, August 18 – 2:00 p.m. & 7:00 p.m.
Sunday, August 19 – 2:00 p.m.
Friday, August 24 – 7:00 p.m.
Saturday, August 25 – 2:00 p.m. & 7:00 p.m.
Sunday, August 26 – 2:00 p.m.
Beer and wine will be available for purchase, and may be taken into the theater. Outside food and beverages are not allowed.
Reserved seating tickets ($45-$25 Adults; $20 Students) are available online or by calling the box office at 509-529-6500. For group ticket sales, please call 509-876-1662.
9 to 5 is sponsored in part by: Passatempo / The Walls, Courtyard Marriott, Premier Mortgage Resources, Edward Jones – Hank Worden, Falkenbergs Jewelers, Gesa Credit Union, Hayden Homes, Impress Salon, and Sotheby's International Realty.
---
The 2018 Season is supported in part by: Coldwell Banker First Realtors, Foundry Vineyards, KAPP-KVEW TV, Inland Cellular, Pacific Power, McCurley Integrity Toyota of Walla Walla.
---
About the Gesa Power House Theatre
The historic Gesa Power House Theatre is a 300-seat performing arts venue, located in downtown Walla Walla. The 120-year-old building was once the Walla Walla Gas Plant, built to produce coal gas used to light the streets, businesses, and homes of Walla Walla. In 2011 the Gesa Power House Theatre building was transformed into a state-of-the-art playhouse for live performance. The interior design of the theatre was inspired by Shakespeare's own intimate Blackfriars Theatre in London, England.
The Gesa Power House Theatre is on the Washington State Building Preservation Commission list of State historic buildings and on the National Register of Historic Places. The venue also hosts a variety of other cultural events, musical concerts, and private events (including weddings).
For additional marketing and media information, including interviews and hi-res images, contact:
Bradley Nelson
Media Contact
Phone: 509.529-6500
webmaster@phtww.org
Gesa Power House Theatre
111 North Sixth Ave.
Walla Walla, Washington 99362