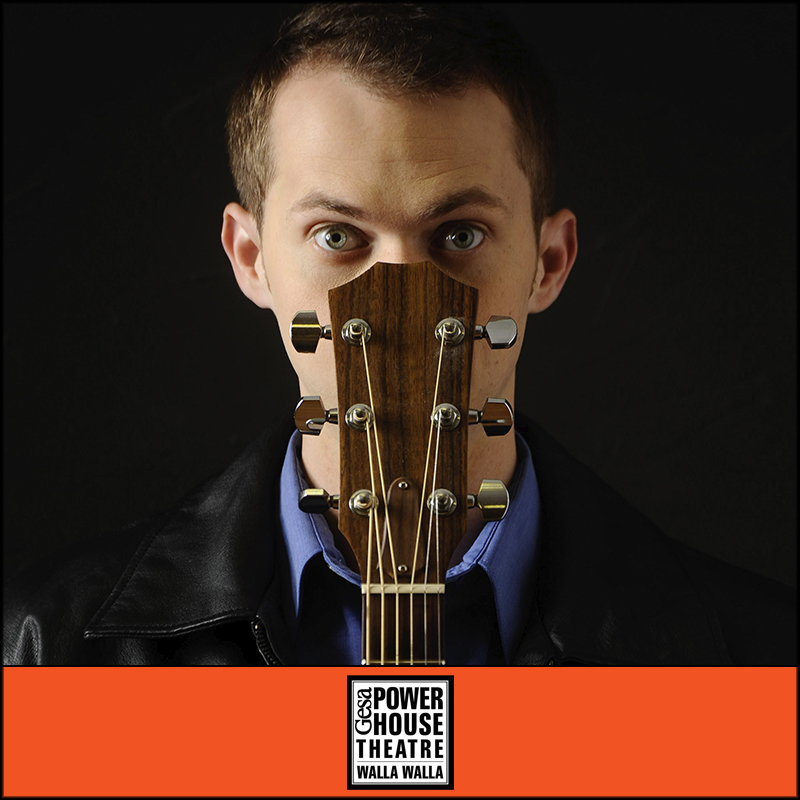 Press Release: "6 Guitars" – Chase Padgett – Sept. 23
Gesa Power House Theatre presents Chase Padgett in "6 Guitars" on Saturday, September 23 at 7:00 p.m.
"6 guitars" is a pitch perfect blend of music, comedy, and characters. Chase Padgett becomes six different guitar players each with their own distinct voice, views, and musical style (Blues, Jazz, Rock, Classical, Folk, and Country). During this 85 minute show, each of the characters ranging from a 19-year-old rock prodigy to an 87-year-old blues man share their journey with music from discovery to mastery through songs and stories that leave every audience laughing, crying, and falling in love with music all over again.
"6 Guitars" premiered in the 2010 Orlando International Fringe Festival where it was greeted with sold out houses and standing ovations. Since then is has traveled internationally, becoming one of the most successful shows from the Canadian Fringe Festival Circuit by breaking attendance records and receiving high praise from critics. In 2013 it became one of the top 5 highest grossing shows in the history of the Winnipeg Fringe Festival by selling nearly 3000 tickets in 12 days. In 2015 it broke that record with 3200 tickets.
Chase Padgett has been a professional actor and musician for most of his adult life. While attending the University of Central Florida, he studied and worked at the Sak Comedy Lab in Orlando Fl, one of the best improv companies in the southeast. After graduating in 2007 with a Bachelor of Arts in Music he worked at Walt Disney World and Universal Studios in various comedic and musical roles including custom song writing for special events.
In 2014 Chase was hand picked to perform a sketch comedy showcase for NBC in Los Angeles where he got to work with some of the best comedy talent in the field. When not touring or auditioning in LA he resides in Portland, OR where he can be seen working with the Curious Comedy Theatre as a writer, performer, improviser, and musician.
"Earns applause no matter your musical taste"
-Winnipeg Free Press
Reserved seating tickets go on sale to the public on Friday, August 4, and will be available at www.phtww.org or by calling the box office at 509-529-6500.
# # #
The 2017 Season is also supported in part by: KAPP-KVEW, Coldwell Banker First Realtors, Foundry Vineyards, Courtyard Marriott, Inland Cellular, Pacific Power, McCurley Integrity Toyota of Walla Walla.
---
About the Gesa Power House Theatre
The historic Gesa Power House Theatre is a 300-seat performing arts venue, located in downtown Walla Walla. The 120-year-old building was once the Walla Walla Gas Plant, built to produce coal gas used to light the streets, businesses, and homes of Walla Walla. In 2011 the Gesa Power House Theatre building was transformed into a state-of-the-art playhouse for live performance. The interior design of the theatre was inspired by Shakespeare's own intimate Blackfriars Theatre in London, England.
The Gesa Power House Theatre is on the Washington State Building Preservation Commission list of State historic buildings and on the National Register of Historic Places. The venue also hosts a variety of other cultural events, musical concerts, and private events (including weddings).
For additional marketing and media information, including interviews and hi-res images, contact:
Bradley Nelson
Media Contact
Phone: 509.529-6500
webmaster@phtww.org
Gesa Power House Theatre
111 North Sixth Ave.
Walla Walla, Washington 99362