This event was rescheduled to September due to COVID-19. Patrons with tickets have been contacted by e-mail.
---
As the winner of NBC's hit TV show Phenomenon, Mike Super is the only magician in history to win a live magic competition on prime time US network television and was voted America's Favorite Mystifier! Through spectacular illusions and his own inimitable down-to-earth style and personality, Mike Super has pioneered a new form of magic that transcends the "trick." Mike was also a top finalist on NBC's #1 rated summer series America's Got Talent!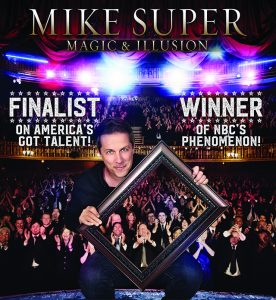 Imagine mind-blowing illusions combined with the hilarity of a headline comedian. Mike Super has taken the performance of magic to new, mainstream levels that will reach out and literally touch you! Mike's turned the magic show on its side and dumped it out into the audience! YOU become Mike's onstage assistant! Enjoy this family-friendly performance and join the journey of emotions from laughter, intrigue, danger, fear, wonder, anticipation, tears and sentimentality that only Mike Super delivers.
Want to receive early notice and access to ticket sales? Become a Gesa Power House Theatre Member (highest priority) or sign up for our e-mail list!
---
Are you visiting from out of town?
Book your hotel stay between April 10 and 11 and use this link to secure a special group rate of $119/night at Courtyard Marriott (expires Friday, April 3).
---
The 2020 Gesa Power House Theatre Season is sponsored by:
KAPP-KVEW TV, Courtyard Marriott, Pacific Power, Northwest Public Broadcasting
Additional support provided by:
Walla Walla County, Port of Walla Walla, City of Walla Walla
Each Coldwell Banker Office is Independently Owned and Operated